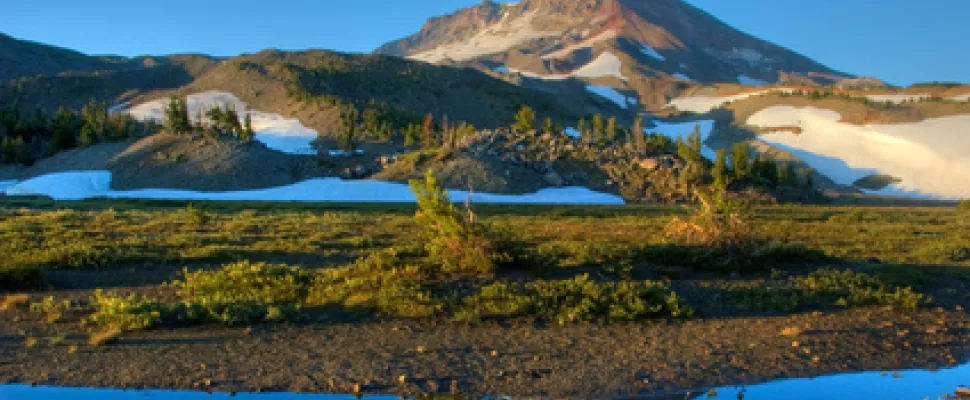 Why Moving to Bend, Oregon is a Good Bet for Relocating Buyers
---
It's not every day a city is called "the Jewel of Central Oregon." Rest assured, Bend has been earned this title. Formerly a "Timber Town," whose main income relied on logging and milling, these days Bend is known for tourism, real estate development, health care and microbreweries – more than two dozen of them!
Bend also has the reputation as being one of the best places to live and work. Because of this, the city is attracting and developing a wave of startups and high-tech companies that are helping to continue Bend's economic evolution.
Need more convincing why you should relocate to Bend? How about these reasons:
The Great Outdoors
You'd be hard-pressed to find a more stunning city than Bend. The city has idyllic scenery, from the Deschutes River running through town, to the big, green ubiquitous parks, the snow-capped mountains in the distance, and the old brick historic buildings all over downtown. Bend, Oregon is simply charming and beautiful.
Outdoor enthusiasts and adventurists will feel an instant connection with the landscape. Whether you're a skier, snowboarder, rock climber, golfer, fisherperson, hiker, biker or camper, you'll love the fact you can do it all in Bend.
All of this activity means residents are a very healthy bunch. It is not uncommon to see locals in their 60s, 70, and even 80s hitting the slopes or biking and swimming. You can't really put a price on health and aging well.
Even those that are not particularly active or sporty love looking out their window and seeing the majestic landscape before them. And if you want clean air, Bend has clean air! You've never inhaled anything like it. Many cities across the U.S. offer residents smoggy, polluted air – not Bend.
Mild Weather
What's the sense of having beautiful scenery if you can never enjoy it due to the weather? During spring all the way to late fall, afternoon temperatures typically peak in the low 80s, and the weather is even cooler the higher up you go. Oh, and there is virtually NO HUMIDITY! During winter months, snow rarely accumulates to more than a few inches, making everything look pretty but without the hazards. Add to this 300 days of sunshine on average each year and you've got weather no one can really complain about.
Education
Oregon State University is currently building a 4-year university campus in Bend, which will focus on high-tech degrees. This is a great opportunity for families who are looking for a quality education for their children close to home. The university will also provide jobs to area residents.
Bend Always Has Cool Stuff Going On
If you've ever wanted to live in a city that always had cool events and festivals going on, come to Bend! Bend has volunteer events, music festivals, dog walks, beer fests, art fairs, film festivals, TED Talks and more. This is only a partial list of the happening happenings around here.
Independent Shops and an Entrepreneurial Spirit
There are so many amazing local, independent businesses in downtown Bend. The creative and vibrant community also loves to support its local businesses, and you've got to feel good about that.
Great Place for Foodies
You often think of places like New York, Los Angeles and San Francisco when speaking of great food cities, but we're here to tell you, Bend has become a foodie Mecca. From casual spots that serve comfort food, like McKay Cottage Restaurant, to establishments serving elevated dishes, like Zydeco Kitchen and Cocktails, to microbreweries serving delectable burgers, like Deschutes Brewery, Bend has something for every palate.
Bend Loves Dogs!
I don't know about you, but I judge a city based on its feeling toward man's best friend. We are so nuts about our dogs that in 2012 we took the "DogTown USA" title by Dog Fancy magazine. Of course, that made us want to shout from the rooftops! Get it?
Bend doesn't just love pooches, we like to include them in our sporting activities and local events. If you're a dog lover looking to relocate, we'd love to have you and your four-legged pals consider us.
There's No Sales Tax
Oregon is one of only a handful of states without sales tax. The others are New Hampshire, Alaska, Montana and Delaware. This means when you buy something and the sticker says $6.99 – you actually pay $6.99 and nothing more.
The People are Friendly
For all of the reasons I've already listed, people in Bend are happy, and happy people are legitimately friendly people. Residents of Bend smile at one another and stop each other on the streets to say hi. We're not snooty or snobby here, just real, down-to-Earth folks who enjoy the simple pleasures in life.
If you're thinking of relocating and are looking for a city that offers big city amenities, beautiful scenery, no pollution, awesome beer, and friendly people, look no further than Bend.