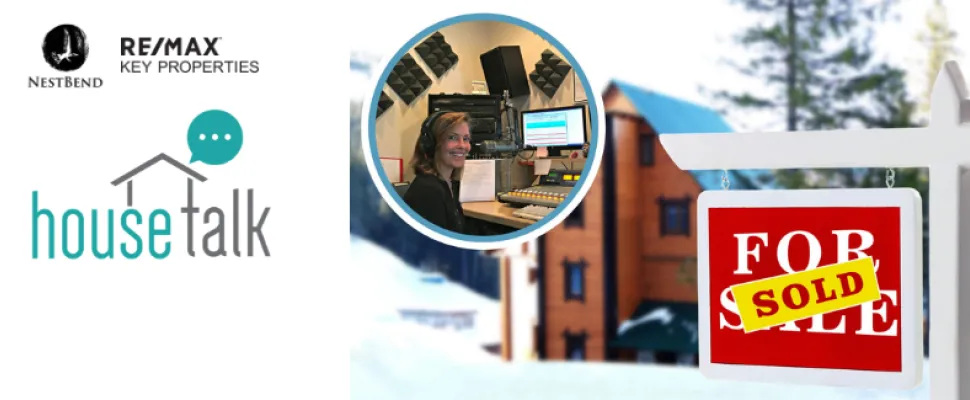 Why List Your Home in the Winter?
---
https://nestbendrealestate.com/wp-content/uploads/2018/09/House-Talk-Show-16-Karen-Malanga-Winter-Listing-Staging.mp3
 
Print your copy of 7 Tips to Sell Your Home in Winter by
Clicking Here
!
KAREN: Hi, welcome to House Talk. This is Karen, and today my guest is myself. The reason that I'm here today is because we've had more than a few calls to our office about "Should we list our home now? Should we wait till after winter?"
I think it's because we're after Labor Day, children are back in school, we're starting to see price reductions, changes in the weather – yet there are some people out there that do want to move this winter. How can we accomplish that in the best way possible?
We've done quite a bit of research, and it does seem to pay to list in the winter. There's several reasons for this. The buyers that come to town, especially to Bend, if they're coming in February, January, December, November, during holidays, they actually need to buy a home. They're here to purchase. They're not here to just looky-loo, maybe they're thinking about moving to Bend. If they flew into Bend to buy, they're here to buy.
There's many reasons for this. This is the time when there's less inventory, but more importantly on a buyer's side, there's a lot of urgency. They could be being relocated here. I think what a lot of people don't understand is that most larger companies do their relocation in the fall. If there are some companies here that are hiring, the people that they are hiring now are going to have to find housing.
I think when you look at listing a home this time of year, there are some challenges and there are some pluses. First of all, we're going to have less inventory on the market. We're going to have buyers with stronger urgency.
The fun part about this, and what we do at NestBend, is we like to start our listing process early in the fall. The reason we do that is we like to hire a photographer to come out and get some shots of your home pre-snow.
That way, when we do launch the sale of your home in say December and we've got snow on the ground, we have the ability to post photos of what your home looked like when it was a little bit green, when the trees still had leaves on them. It not only gives the buyers a better sense about your home, but it also expands your internet presence.
MICHAEL: Karen, expand on the types of photos that benefit the sellers.
KAREN: What we'll do is shoot the exterior landscape. We'll also have the photographer come in and, if there are some strong views, we'll have him take a shot of that so they can see what the mountains look like in the summer and in the fall. It really helps boost that photo package for you.
We just did a photo shoot at a new listing up on Aubrey Butte, and that home is not going to be coming on till January. Gorgeous southerly views. He went inside and shot from the kitchen windows so that you could see all the views to the south, and you could see all the trees and all the flowers still in bloom.
This particular seller has the most gorgeous flowerpots on her deck, and those are going to be gone soon, so we got close-ups of the flowers and the pots on the deck – and the umbrella up on the patio furniture, because the patio furniture is going to be put away soon.
So we really feel it's to a seller's advantage to start the listing process as early as possible.
There's other types of challenges that we have when we go to list a home in the winter – and you can think about it, Michael – when the snow falls, what do you do? You've got to shovel.
MICHAEL: Oh yeah. I'll tell you, I've lived in cold weather states and the first thing I look at is, how long is that driveway? It's true. [laughs]
KAREN: [laughs] That's true. Which way does the driveway face?
MICHAEL: Where does it face, how long is it, what kind of work – if you've got a big yard, you're talking maintenance too.
KAREN: That's true. But it's still a good time, because we can also offer snowplowing. We can offer snow-blowing. We can show up and shovel the pathways too, if people aren't here.
I think the other thing that's fun about listing homes in the winter is creating a feel of coziness. Warmth, coziness. If you have a fireplace, you want to have the fireplace going, some candles. As we get closer to the holidays, maybe some twinkly white lights.
Have people come in and have your heat set at the right temperature so that it feels good when someone comes in your home. All those things add to the ability for you to sell your home in the winter. Not just winter, but the holidays specifically.
Most experts in the staging field will suggest that you take it "holiday lite." You don't overdo it. The scent of cinnamon, potpourri, maybe some cookies baking in the oven, some molasses cookies or something like that is a real asset – but you might want to keep half of your Christmas décor or Hanukah décor put away.
If you don't have a big entry with a tall ceiling, unfortunately it's probably not the best time to put a big Christmas tree in the center of the living room. You want to take it down a little bit so that people can visualize their own holiday decorations, their own home décor, and the room doesn't feel overcrowded. Maybe just a beautiful wreath at the front door.
To sum it up, when you're trying to have your home shown during the holidays, I think the best way to think about it is that classic is always best. Welcome the season, but welcome it lightly.
We'll be right back, and we'll be discussing how to price your home in the winter.
Welcome back to House Talk. This is Karen Malanga, Principal Broker at RE/MAX Key Properties, and we're talking about how to list your home through the winter and have it be a successful sale to you.
I think one of the main things you want to consider is really having your home priced right. The quieter winter markets bring special pricing considerations. It's not a time to list your house over market, but it is a great time to take a conservative approach and price at market value.
You can check closing prices during the winter, and generally prices are pretty solid, and sometimes even higher than what you have in spring. I think part of what creates that nice, solid, comfortable selling price is the fact that there's less inventory on the market and that the buyers really are serious when they come to our town.
The other thing we like to suggest to our clients is to schedule a tune-up. When buyers come into our homes during the winter season, a lot of times they're from out-of-state, somewhere warmer. What's important to them is, how cozy is this home and how sturdy or how current is the HVAC system?
So you might want to go ahead and get your furnace/your HVAC serviced. Maybe have your roof inspected before there's any snow on it, because it can't really be inspected during the sales process when there is snow on it during a home inspection. Why not have it inspected now and be able to provide that roof inspection to be your prospective buyer? It's also good to make any necessary repairs on any of those systems that may need those repairs.
The other things on the to do list are maybe clean the gutters, change your air filters, and weather-strip the windows – stuff most people would do anyway at the change of the season, but just have your receipts and let everyone know that it's been done. It's nice to have that on your counter when people are viewing your home so that they know this home has been taken care of for the winter.
The other thing that our stager likes to recommend to people: because our days are shorter, a lot of times we're showing property at 5:00 at night and it's pitch dark, so make sure the home is well-lit when agents arrive with buyers. Maybe pick one room or two rooms in your home to lighten up a bit. Maybe paint it a brighter color.
If you've got some darker colors in your home and it feels insurmountable to repaint the whole interior, maybe just make your kitchen a soft white or your entryway white – something so that your home feels light and bright when you come in.
Again, create a sense of warmth throughout your home. I think the living room is where staging can have some of the greatest impact, so maybe lighten up the pillows on the sofa. We have experts that can come in and just simply move your own furnishings around and make your house feel lighter too, which is really helpful this time of year.
The other thing to do is make sure that you're protecting your home from the elements. By that we mean if we're out showing property and we have buyers for your home and we have two feet of snow, let's make sure that we get that shovel out and get the pathway cleared. Make sure people can park easily and that they're not stepping into a foot of snow.
Again, at NestBend we can help with all this, but it is important because a lot of people traveling here don't have snow boots. I've taken people out in the winter that show up in my office in tennis shoes. I have to figure out where to park my car and how to get them into the house. Then once we get into the house, where can we dry our feet off or set these boots down and maybe put our parka down so that we can really enjoy the home and get a good feel for the home?
Little touches like these don't only make the buyer's experience more memorable, but it allows them to get a sense of what might make them feel at home on your property. These are all important things to consider.
Then we have the basics. Let's do a little decluttering. The more open, the better. Get a lot of the small things off the shelves, a lot of personal items put away.
The other thing I think, too, what we tend to do in the winter is keep our homes closed all day long. So maybe right before a showing or a half an hour before a showing, open up a window. Let a little fresh air in, and then shut it so that the room is obviously cozy, but it won't feel so musty.
These are just a few ways to make your home stand out in the winter and help you make the most of the season.
MICHAEL: What are the reasons why we take away the personal items when we're showing our home?
KAREN: A lot of times during the holidays we'll go in and show homes, and there's all these gifts wrapped. Some of that should probably just be put away when you have your home open to the public.
There's a lot of processes going through a buyer's mind when they come into a home, and if there's a whole wall of family photos, sometimes we'll catch our buyers just standing there looking at those photos. You don't want them looking at your photos; you want them looking at your house. So a lot of that personal stuff I think is best put away.
MICHAEL: Plus it kind of gives them a blank canvas to see the wall and what it would look like if their stuff was on it.
KAREN: Yeah. Also, when we get into the holiday décor, you don't know what faith the person has that's coming to look at your home. So tone it down a little bit. No matter what faith you are, it's all good, but maybe just an elegant Hanukah wreath on the front door in soft blues or maybe a beautiful evergreen wreath with red and green. But elegant. Keep it a little bit more simple.
MICHAEL: That makes a lot of sense now. It does, because for me, when you go into somebody's place, you want to be able to see what your life is going to be like in that house. That's the whole reason for a lot of the staging.
KAREN: Sure. Sometimes in the winter we'll come in and the mudroom is absolutely filled. It's got the ski boots, the winter boots, it has 15 parkas on three hooks. Put them all away. Maybe hang one parka so people know, "hey, that's where I can put my parka," and maybe have two pairs of boots in the mudroom so they think, "okay, this is where we would put our boots."
Again, people are coming from other environments. They have no clue that they're going to take their boots off when they come into a house here. They're getting that feeling when they're here in the winter, obviously. But make them feel that they have room, that they can experience their own life in your home.
We're going to take a quick break, and when we get back we'll be talking more about the advantages of listing your home during the winter and the process to get it started.
Welcome back to House Talk. This is Karen Malanga, Principal Broker at RE/MAX Key Properties and NestBend.com. We've been talking about listing your home during the winter. I know most people think that's crazy, but it's actually a pretty good idea.
We've discussed the reasons, and some of the major reasons are that the buyers we get in Bend and Central Oregon, when they come in the winter, they're serious buyers. They have an urgency to buy; whether they're being relocated or they have their own personal needs, they need to be here.
One of the advantages that we have is, especially if we have a heavy snow, many times they don't want to slog through snow all day long, so they tend to pick a house on the first day. [laughs] That's an advantage. And then, of course, the major advantage is we have fewer homes on market.
We've touched lightly on what we provide at NestBend. We like to start the listing process early so that we can get some end-of-summer photos to add to your photo bank for your home. Then we discussed some of the things to do to get your house feeling really cozy for the winter, and what to do and not to do in the neighborhood.
One additional item I'd like to talk about is to consider your neighborhood. As we head into the holiday season, whether it even be Halloween and you've decided to list your home, and every home on your street has pumpkins, then you should have pumpkins too. You don't want to look like Scrooge or Grinch and be the only one on the block that isn't celebrating the holiday in some way, shape or form.
The same as we get closer with Hanukah and Christmas. If your street is ablaze with lights, then please, put some lights on. You don't have to go overboard; if it's something you've never done, maybe do some simple lights around the door.
But again, you want to celebrate your neighborhood's values and its holiday spirit. Nothing makes a buyer feel more welcome than, when they're driving around a neighborhood and they have your address, to have it be sparkly and cozy-looking, and not dark. [laughs] I just wanted to make sure that we added that.
Some of the ways to begin to think about listing your home this fall and winter is to sit down with your realtor – and of course, if you don't have one, we'd be happy to help – and do a current CMA on your property, which is a market analysis, to get a good solid value opinion on your home.
If you decide that you are going to be wanting to relocate, maybe to somewhere warmer, from November through February, it is time to sit down and say, "What can we do to make our home the home that a buyer is going to want to purchase when they're here? How are we going to make them feel welcome? What can we do starting now?"
As we touched on earlier in the program, some of that is just making sure your heating elements for your home are all in good working order.
Another suggestion that we've mentioned on House Talk earlier, when we had Kit Blackwelder here from Blackwelder & Son, is to have a home inspection done. Get it done now, and that's something you can also offer buyers when they arrive – because we don't know if we're going to have a winter like last winter. We don't know if we're going to have eight feet of snow. But if you have a home inspection in place, that can really help put a buyer's mind at ease. It also helps set your home apart.
I think the main thing to do this time of year is say, "We do want to move. Let's get our homework, let's sit down with a realtor, let's get organized," and then we can all move forward to a successful selling season throughout the holidays.
One of the nicest things we have in Bend is our four seasons, and at NestBend we welcome every season with open arms. That's why we've lived here for so long. [laughs] Each season does bring its challenges, so just being prepared is the best thing you can do.
MICHAEL: So, I want to list my home this winter. What are the first steps I need to take?
KAREN: If you decided that you wanted to meet with us, then you would contact us at NestBend or my cell, (541) 390-3326.
The first thing we would do is come to your home. I like to meet people at their home, and I don't bring along a lot of items with me, or brochures; I just sit down and listen and get a good feel for your home.
Then we could talk about your particular moving dates and why, like you need to be moving to Arizona and you have a home already under construction there – what are those dates and how can we accomplish this during the winter season?
At that point we would have you sign a listing contract with a to-be-determined date as to when the listing would go live based on weather, based on your personal needs and when you want to leave. We'd get set up and we would hire a photographer and pay for them to get some early photos right now, like we discussed earlier in the program, so that we have a nice photo bank to show those potential buyers.
MICHAEL: And like the stuff that you talked about earlier in the show, get the inspections done. Get everything out of the way. Get it on the counter. When a normal buyer or "regular" buyer comes in, is that something that they really want to see?
KAREN: I think generally, yes. In the winter, always. The heating, and they also want to see the utility costs, like how much it costs to heat this home. So many of our homes have gorgeous vaulted ceilings, and a lot of buyers aren't prepared for that and think "these heating bills must be huge," when they're actually not because the home was built well. It's insulated well.
So if you can show your utility costs during the winter – all those little details. Anything to make a buyer feel super secure about moving during the holidays, anything you can do to make it easier or that we can do at NestBend to make the other agents and their buyers feel more welcome, is invaluable to you getting the highest price for your home – and that's our goal.
When it comes to selling your home in the winter, we know that it can be stressful or that it can seem stressful at the onset. That's why we do provide special services. We have our own snow blower. We have checklists to help you every step of the way.
If you're out of town, we'll take care of it. We'll turn on the lights, we'll get the home warmed up to where it needs to be several hours prior to showings. Our goal is to make selling your home as stress-free as possible.
If you'd like to get more information, one of our early holiday gifts to everyone listening is that if you go to nestbend.com, we do have all the tips that we've been discussing on the show right there on the front of our website for you with an easy link. It's just some free information for you, and it'll maybe get you thinking about listing your home.
You can always find us at nestbend.com or karen@nestbend.com. And we're always on our cell phones; I'm at (541) 390-3326.
We'll be back next week with Deedee Johnson. She's with the Bend Area Habitat for Humanity, and she's actually the Homeowner Services Director with all kinds of information on how to apply and qualify for Habitat for Humanity homes here in Central Oregon.
Thanks so much, and we'll be back next week.