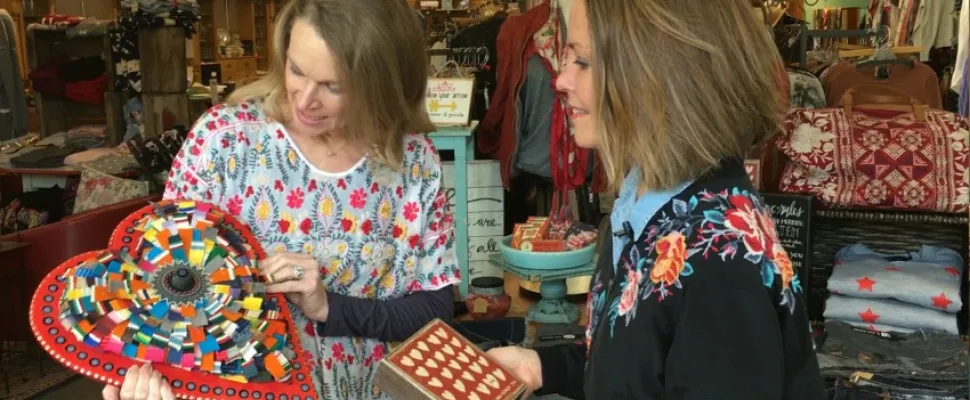 Valentine's Day in Bend, Oregon at Desperado in The Old Mill District
---
Valentine's Day Gifts at Bend, Oregon's Desperado – House Talk Episode 52
https://nestbendrealestate.com/wp-content/uploads/2018/02/NestBend-House-Talk-at-Desperado-for-Valentines-Day.m4a
Karen Malanga: Hi, this is Karen Malanga with Nest Bend and House Talk back at Desperado. We're back, and I'm excited to be back. And thank you so much.
Today, we're looking at what they have ready for Valentine's day. With Valentine's day just around the corner, it's time to come down to Desperado.
Respondent: Well, we've got lots of fun things. I mean, you can go anything from like this vintage sculpture heart. This is something that…
Karen: That's really unique.
Respondent: It's very unique. And you're not going to find another one like it. These are all small, little pieces of little blankets that have been fabricated into a beautiful heart and hand-painted.
Karen: And then, these are adorable.
Respondent: Absolutely! Little say that say, "I love you."
Karen: It was always you… I love you… love…
Respondent: Lots of little variety that can be a nice, little gift for somebody that you love.
We also have some great t-shirts and things with little hearts on them. Of course, a great pair of jeans is a great way to say, "I love you."
Karen: This is awesome!
Respondent: Yeah, lots of fun things.
Karen: So, come on down to Desperado.
https://media.blubrry.com/house_talk_bend_oregon_real/p/nestbendrealestate.com/wp-content/uploads/2018/02/NestBend-House-Talk-at-Desperado-for-Valentines-Day.m4a
Podcast: Play in new window | Download
Subscribe: Apple Podcasts | RSS