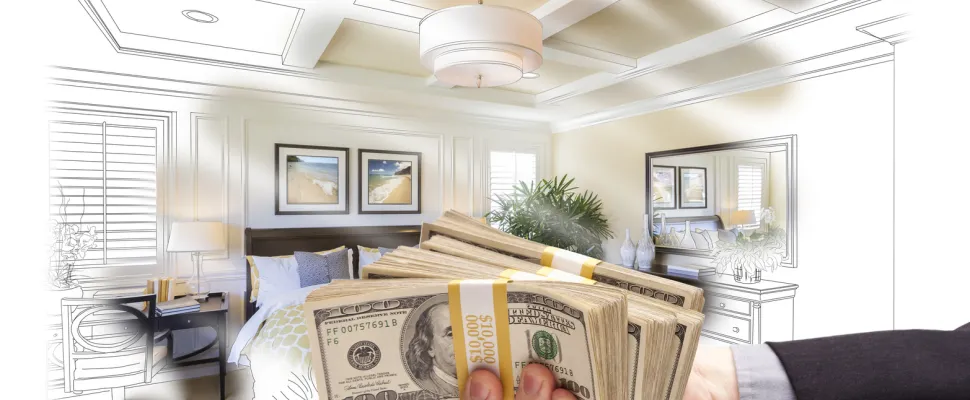 Top 10 Upgrades That Pay Off at Resale
---
When it's time to sell your home, you may start considering upgrades. But what kind of upgrades help your home sell faster and have the best return on investment at resale? We scoured the 2017 Cost vs. Value Report by Remodeling Magazine to bring you the best home upgrades to consider.
For the best return on investment, consider these 10 home upgrades.
Painting
Though the report didn't cover a fresh coat of paint, we can't leave it out! Painting is one of the most cost-effective ways of raising the value of your home, particularly if you are capable of doing the work yourself. Fresh paint, particularly in neutral tones that appeal to many people, offers a dramatic transformation, giving your home new life.
If you hire a professional, consult this helpful report for average costs.
Add Siding
Many home buyers prefer houses with some type of siding, as opposed to traditional wood, because less maintenance is required. Also, unlike wood, which is not resistant to fire, rotting, and termites, manufactured siding lasts for years and can stand up to the elements. Vinyl and aluminum siding are a couple of options, but there is a better and more interesting one to consider.
According to the 2017 Remodeling Magazine poll, manufactured stone veneer, which costs an average of $7,851, is an upgrade with an estimated 89.4% recoup on the initial investment.
Add on a Deck
Decks aren't just a space to grill hotdogs and hang birdfeeders in the summer months; they add legitimate outdoor living space and offer a seamless transition from indoors to out.
Unlike the addition of siding, where composites are valued more than wood, the opposite is true for decking. The Cost vs. Value report shows that composite decking, which costs, on average, $17,249 per project, recoups about 65.2%, whereas wood decking, which costs, on average, $10,707 per project, recoups roughly 71.5%.
Update the Kitchen
You've most likely heard the saying, "Kitchens sell houses." More than any other room in a home, the kitchen is thought to be the central gathering place, the heart and soul of the building. But remodeling a kitchen can be a big project to take on, which is why potential homebuyers appreciate when you've already done the work for them. Minor kitchen remodels cost an average of $20,830 with an average of 80.2% cost recouped.
When doing a kitchen remodel, it's important not to skimp on appliances or fixtures. Stainless-steel appliances will likely be perceived as more attractive and valuable to the majority of home buyers, as will granite countertops. While laminate countertops may be fine in a rental unit, this material will potentially turn prospective buyers off.
Having said this, many industry experts caution sellers of smaller homes not to overspend on top-end appliances and materials. Traditionally, homebuyers are looking for a 3-bedroom 2-bathroom family home. If you are selling a small 2-bedroom 1-bath bungalow, and you spend $25,000 on a kitchen remodel, you may not recoup your investment. In this scenario, making cosmetic updates on a kitchen that is in decent shape is all that is necessary.
Replace Windows
One of the first things smart home shoppers look for is energy efficient windows. These keep your home cool in the summer and warm in the winter, cutting your energy bill way down. You could recoup as much as 73% of your initial investment by installing new, vinyl windows.
Bathroom Renovation
Bathroom upgrades can provide solid returns as long as you stick with classic features, like subway tiles, that will appeal to home buyers with both traditional and contemporary tastes.
Landscaping/Curb Appeal
The importance of curb appeal cannot be stated enough. The front of your house is the very first thing prospective homebuyers will see, and, as they say, you never get a second chance to make a first impression. In fact, Barbara Corcoran, founder of the Corcoran Group, a Manhattan real estate firm, has said, "Buyers make their decisions in exactly eight seconds. After that, they've either fallen in love or are just honoring an appointment."
Planting perennials, which come back year after year, is a great investment, as is planting trees. They are not only lovely to look at but they help with shading (keeping the house cool in summer months), stave off erosion, and filter groundwater pollutants. And don't forget the front door – Entry Door Replacement averages 90.7% recouped cost.
Install Central Air-Conditioning
Central air conditioning is not just convenient, it is also more energy efficient than running single-window units, a fact home buyers love. Plus, central air doesn't block the view the way window units do and is helpful during smoky times in fire season.
Don't Forget Your Basement
While it's not necessary to add drywall, insulation, flooring, or even a bathroom to your basement, it is important to make sure it's dry. There's nothing more off-putting to home buyers than that damp basement smell. If your basement is prone to excess moisture or even flooding, bring in the professionals to get the space dry.
Add Attic Insulation
Adding some insulation to your attic helps your home be more efficient. Again, lower energy bills appeal to every home buyer. Plus, laying new insulation is a relatively inexpensive DIY project. And of all upgrades, this one averages 107.7% ROI.
If you invest in one or more of these 10 upgrades, you are much more likely to sell your home faster and recoup your investment when it comes time to sell your home.