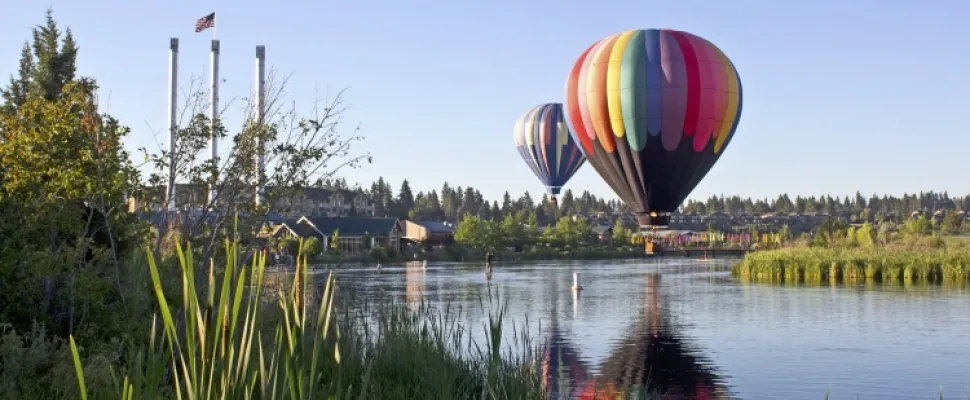 Spotlight on Summer Activities in Bend, Oregon
---
Okay, we may be biased, but we happen to think there is no better place on Earth to live or work than Bend, Oregon. And when it comes to summers, forget about it! Bend offers so many cool activities for people of all ages.
For those outdoor enthusiasts, Bend's stunning, wide open spaces offer the chance to get out and commune with nature. Locals and visitors alike can bike, hike, fly-fish, rock climb, paddleboard, golf and so much more.
Got Kids?
Don't you just love when your kids count down the days until summer vacation, then when it arrives they chant, "I'm bored!?" Well, there's no reason for kids to be bored in Bend, as there's plenty to keep them occupied and surreptitiously educate them at the same time.
A trip to the High Desert Museum will allow kids to check out the animals and enjoy unique exhibits. If they still have energy afterwards, take them to the Sun Mountain Fun Center where they can play outdoor mini-golf, bowl, enjoy arcade games, or try their hand at the batting cages and go-karts. If your little ones love science take them on a Wanderlust Tour, where they can explore lakes, volcanoes and caves. Or, if you're up for rising early Balloons Over Bend is not to be missed!
Festivals
Bend also offers different festivals throughout the summer season.
Bank of Cascades Summer Festival
Locals and visitors have been enjoying the Bank of Cascades Summer Festival for 25 years. The event, which always kicks off the summer season, typically draws 75,000 visitors, who all come to enjoy fine arts and crafts, artisans and some of the best blues, rock and jazz performers around.
If you're a foodie ready to take a bite out of summer, you won't want to miss this festival. Bringing together the region's top chefs, bartenders, brewers and local purveyors is this 3-day food party on the streets of downtown Bend.
This year the festival will showcase over 40 food vendors from around the region. Attendees can eat their way through tastings and enjoy cocktails made from the region's spirits.
You won't want to miss the food, music, spirits, The Beer Run, Little Hopper Root Beer Run,  Top Chef competitions & the final Bartender Brawl.
Get your Christmas shopping done early, or heck, by yourself something nice at the Art in the High Desert festival. Bringing over 110 nationally recognized and hand-picked visual artists to the banks of the Deschutes River in Bend, Oregon's Old Mill District, the festival is ranked 12th in the nation for Fine Art Fairs by the Art Fair Sourcebook 2015.
Music
When it comes to music, Bend has it going on. And just to prove it, we've got some great music festivals lined up.
Can you believe this free concert series has been around for 26 years? Because of its popularity, we've no doubt it will continue for another 26 years and more. This summertime favorite was founded by C3 Event's own Cameron Clark, and brings together the community to enjoy great music, art and food.
Enjoy more awesome free concerts all summer long at the Les Schwab amphitheater. This year's great musical lineup includes Ben Harper, Widespread Panic, Brandi Carlile, Huey Lewis and the News, and many more.
Breweries
There are those days when it suddenly strikes you how wonderful Bend, Oregon really is, and on those days, you just feeling like raising a glass. Well, if you'd like to raise a glass of ale or lager, you won't have a problem.
Bend is home to 29, count them, 29 local breweries, putting out some amazing beer. While there are far too many to list here, we'll share a few of our favorites.
Founded in 1988 as a brew pub, Deschutes Brewery is known for brewing their popular Black Butte Porter and Mirror Pale Ale. 20 years after opening its doors, the brewery opened a second pub in the Pearl District. Apart from being a local favorite, Deschutes Brewery actually ships beer to 28 states, the District of Columbia, and all around the world from its main brewing facility. Locals should be proud of Deschutes, who has become the sixth-largest craft brewery and twelfth-largest overall brewery in the United States.
If you live in Bend, you know that the Cascade Lakes Lodge, the breweries flagship operation, has become a beloved landmark in our community. The 6,000 square foot building on the corner of Century Drive offers patrons mouth-watering burgers and other delicious entrees that can be easily washed down with a cold beer. The company now has several thriving locations around central Oregon, but we will always assume the Lodge will be the best.
The Bend Brewing Company, affectionately called the BBC by locals, is that perfect gathering spot for friends and family. The intimate space is often crowded on weekend as well as weekdays, which might have something to do with its menu full of delicious comfort food and beer that is piped directly to the taps. On summer evenings enjoy dinner on the patio that faces the cool breezes coming off the river.
This is only a sampling of the amazing activities the city of Bend offers each and every summer.