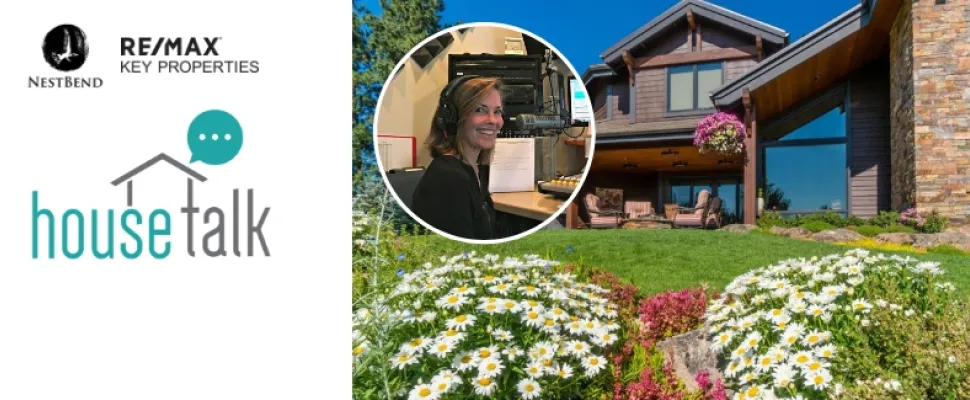 How to Market High End Properties in Central Oregon
---
How to Market Luxury Properties in Central Oregon
Karen Malanga: Hi! Welcome to House Talk. So today, you're going to have me to listen to, Karen Malanga, principal broker at RE/MAX Key Properties. And I brought in my daughter, Kristin Marshall, also a broker with me at RE/MAX.
Kristin Marshall: Hi!
Karen: Hi Kristin.
Kristin: Hi.
Karen: Thanks for coming.
Anyway, so what we're going to address today is how to market one of the higher end properties. And in Central Oregon, we have a plethora of properties listed above that $900,000 price point. And they really do take a unique approach to marketing.
And it's interesting because, as realtors, we're always giving advice on price reductions, multiple offers, but rarely about how to sell a million dollar listing. And some might think that having a million dollar listing is a high class problem, but it definitely presents some of these unique challenges.
The more costly a home is, the smaller its pool of prospective buyers, and the more insular the agent community is that caters to them. These buyers can be picky and discriminating, right, Kristin?
Kristin: Yes, they can be.
Karen: And in Central Oregon, there's no shortage of homes again in that $900,000 and above price point.
So, one of the reasons we moved to RE/MAX in March was to be able to utilize the RE/MAX Luxury Collection. And what we learned in the process of searching agencies is that RE/MAX markets our clients' properties above the ordinary with their global reach of offices. And we felt that this offered a huge advantage to the rest.
RE/MAX has the most recognizable name in real estate on the planet. And from Switzerland to Saint Croix, New York to New Zealand, we also appreciate that the motto with RE/MAX is that "a successful life is a charitable one."
So, in North America, we assist the Susan G. Komen for the Cure and the Children's Miracle Network Hospital.
So, I'm sure Kristin had her own reasons for moving to RE/MAX, but we're really happy we're there. And we do feel that it gives an advantage to marketing these luxury home properties. And we'll go into some of those points in just a minute.
So, the RE/MAX Collection Market is only the most outstanding homes. And the standards are really high. They judge our quality of photography, the presentation of the lifestyle that we're presenting. It all has to come together.
And when you list with us, you'll be listed in the REMAXCollection.com, the Dupont Registry—which is amazing (it's in every United States and over 54 countries,  isn't that right?
Kristin: It is…
Karen: And then, we also have Unique Homes which goes to 80 countries and the Wall Street Journal. So Kristin and Jonathan and I have made a monthly commitment also to Alaska Airlines in-flight magazine. We feel this is another great opportunity to channel your higher end property.
So, having my principal broker's license ahs also opened up new doors. And then, both Kristin and I have completed the Certified Luxury Home Marketing Specialist Program. And that's a lot of training.  Our son, Johnny, is in the midst of receiving his broker's license and luxury certificate as well.
So,  what we've formed here is a good team. We've learned a ot about the process of understanding how to attract buyers  for these higher-end special homes?
So, should we get ready to tackle a higher end listing?
Kristin: Let's do it!
Karen: Let's do.
So, initially, we—Kristin, Jonathan and I—sat down with our marketing team, SeedSpring. What we do at that meeting is we try and figure out like who is going to be looking at our listing, who's going to be that buyer, where do they live now, what they read—what do they read—what do they watch, and what do they care about.  And that's how we develop our targets.
So, I think really honing in on the geographical area is so critical to the process.
So, Kristin, do you want to speak to our listeners a little bit about what SeedSpring brings to the table?
Kristin: Absolutely! We work closely with our marketing team, SeedSpring, to make sure that we are garnering enough online interest. For example, we might start with a shot of the front of the home. And at our weekly marketing meeting, if we're pulling in the wrong demographic, we will change the photo and/or the listing verbiage until we hit our target market.
SeedSpring also helps gain exposure for our listings by farming local concerts, festivals and cultural events that are of interest to that high-end buyer.
With SeedSpring, we are able to see the geographic area that is attracted to our listing. For instance, with one of our recent listings, we were able to see that those who viewed it were from Bend with 36%, 22.9% were from Portland, 14.8% from the Bay Area, 8.4% from Seattle, 5.4% Los Angeles, and 5.2% Dallas.
If we see a high level, for example, from Portland, we may advertise in the Lake Oswego Newspaper or in the Pacific Northwest Edition of the Wall Street Journal. We can get all the way down to whether it's a male or a female looking at our listing as well as their financial capability.
I find it really fun and interesting at our weekly meetings because, like one time, we had a lovely home, kind of a gorgeous contemporary home. But it had the master up in the third floor, and it also had a single car garage. And we were looking at the demographics of who was looking at our listing, and it was like a family of four and eight… remember that one?
Kristin: Yes!
Karen: It was like, "Wow! How are we getting them looking at our listings?"
So, what we did was we tweaked the photos. We tweaked the verbiage. And slowly but surely, after a few days, we were able to see the correct demographic. And what we were trying to reach in that particular case was, probably, we were focusing on like an urban couple moving to Bend that didn't have a bunch of kayaks and stuff…
Kristin: Or kid junk in the garage…
Karen: Or kid junk…
And a small car because it was a small single car garage.
Kristin: Like an electric car.
Karen: So, those weekly meetings are just a lot of fun. Anyway, we'll be back shortly. We need to take a break, but we'll be back. Thanks!
Karen: Hi! Welcome back to House Talk.  You're listening to Karen Malanga, principal broker at RE/MAX Key Properties,  and Kristin Marshall, my daughter, broker at RE/MAX Key Properties. We work together obviously.
So, anyway, we've been discussing how we like to market a luxury home. And those are homes, again, priced above $900,000, and how we do it—how we meet with our marketing and the things that we consider and learn about the listing as we move through the process.
One of the most important things to consider when marketing a higher end property is lifestyle.
Kristin: Absolutely!
Karen: Don't you agree?
Kristin: Absolutely…
Karen: Yeah. It's not always all about the house, but it could be about the location. Maybe they want to live in Tetherow or Broken Top, or they want to be on top of a mountain, or they have children that love horses.
So, we really want to show the lifestyle. And I think sometimes we go back to the basics, Kristin. I think we've all agreed that the word "home" means so much to all of us. And I'm personally always struck by the way that that word and our raw need to go home.
And home means so many things—security, love, safety, comfort and acceptance. It's kind of where we let our hair down, kick off our shoes, and peacefully lay our heads at night.
And today's homes have become a reflection of ourselves and our lifestyles. So each home has spaces that allow our sellers and potential buyers to experience the things   they love to do. And I think that's where portraying lifestyle comes through the best.
And that's the feeling that Kristin and I worked diligently on to convey. And if you think about it carefully, there's a lot of homes that may have a theatre room. What about a game room or  wine cellar, a spa-like bath, outdoor kitchen, fitness center, chef-quality kitchens, craft rooms, workshops, fire pits—let me think what else—maybe completely amenitized offices, guest quarters, or we can go the other route with barns and equestrian centers.
So, there's so many individual items to consider when we look at a luxury listing that are going to be unique to that home and property and present a lifestyle to the buyer.
So, we like to focus on also what makes our seller's home a pleasure to them. And I think that's really where we start, isn't it,  Kristin?
Kristin: It is! I think it's important to understand why they originally chose that home and what they like about the home. Sometimes, we even have the sellers write down their favorite things about the neighborhood or the home specifically. And we put that on the kitchen counter on display for potential buyers.
Karen: Yeah! Yeah, I think it helps denote why they're there in the first place.
And many of these higher end homes too were custom-built by the sellers. And so why did they put the wine cellar where it is and its access to the dining room so that they could entertain. The deck off the kitchen is really fun.
So, after lifestyle, we kind of hone in on value. So just as a quick examples, we'll look at all comparables to learn a good, solid value of your home. It's important to come on the market just below common home search price range cut-off.
So, if you're not familiar with the Internet, that's where 97% of the people start their home search. And they always have a value that they don't want to go above. And that can sometimes be $1 million. So just quickly, if your home was valued at a million, it would make a lot more sense to come on at $995,000 because that will open up your property to everyone searching right below that million dollar price point.
You'll get a lot more hits on your listing, a lot more looks when we put it on MLS, and potentially a lot more viewings and a quicker sale.
So, I think another important thing to think about when we're pricing your home is that Kristin and I and Johnny treat your money as though it's ours. And so every dollar matters. It's our goal to reap you the highest possible sales price.
So, after lifestyle and honing in on value, we have to deal with photography. And that is super important. So Kristin, you want to tell them about our photographers and what we do.
Kristin: Absolutely! So first, we walk the home with the seller and make sure that it's photo-ready, that items are put away and items are brought out that depict a lifestyle.
For example, we had this great listing, riverfront listing…
Karen: I loved it!
Kristin: It's still one of my favorites, I know. But we staged it with paddle boards and rafts that were going off the deck with the river right behind it to show you if you live here, it affords this lifestyle. You can just pick up your paddle board, walk through your backyard and hop on that river.
Karen: First of all… it was a great photo…
Kristin: …and a great house.
Karen: …and a great house.  And really fun sellers too!
Kristin: Very fun! The whole thing was fun.
And then, we work closely with the professional photographers in town. We meet them at the home. We walk through the home with them. And we make sure that they're really capturing the feel that we have chosen to convey.
We have them shoot both during the day as well as return for a twilight shot which is where it's right at dusk and all the lights are on at the home. And some of these are the most beautiful shots. It really depicts the home in a different way.
Karen: Yeah. And I like them not only on the exterior, but sometimes doing a twilight shot from the interior so you can see the subtle, kind of darker view. Especially if you're up on the Butte, you can see the city of Bend. It looks like a box of jewels with all the lights on at night. That's kind of cool…
Kristin: It's really pretty.
For clients that are going to be on the market in the winter, we really do our best to get a photographer out there to shoot the landscape and the views before the first snowfall because they really do look different each season. And so if we're able to capture that, that's really beneficial in terms of online marketing.
Karen: Yeah, I think that that's one thing that we really, really encourage our sellers to do with us. We pay for the photography. But we like them to come out and have access to the property whether it's flower pots on a deck overlooking the city or just looking out at that golf course or the river…
Kristin: …which could be brown soon. Or even if you're on the canal when the canal is running.
Karen: Yeah, yeah.
Kristin: It's a completely different backdrop to your home…
Karen: And it's wonderful to have that bank of extra photos too. I think that's pretty important.
Kristin: Absolutely! Next, we do virtual tours. And sometimes, we do podcasts as well.
Karen: Yeah, we do. And I want to talk a little bit about a program that we use called Box Brownie which is super fun. I'm totally into this website. It's like…
Kristin: It's a very cool website.
Karen: It's a super cool website! So we can tweak your photos. We can add a gorgeous sunset. We can take out that sofa. We can maybe remove some tables.
Kristin: Or like Fraser, think of Fraser's family room. We could take out his dad's chair.
Karen: Yeah, exactly.
Kristin: And no one would know. You could just remove it. I mean the things that Box Brownie can do are pretty great.
Karen: Yeah, they can do virtual renovations, tons of staging.
Anyway, I'm talking too much. We need to take a break. And we'll be right back.
[commercial break]: Stay with us! More House Talk is straight ahead on 104.5 FM, 1340 AM and KBNWTalk.com.
♪ [music] ♪
[commercial break]: This is House Talk. Now, once again, here's your host, Karen Malanga.
Karen: Well, welcome back to House Talk. It's Karen Malanga, principal broker at RE/MAX and Kristin Marshall, my daughter, broker. So we've been discussing a few of the ways we begin to market and look at marketing a higher end property.  And those are those properties again that are priced above $900,000.
So, we touched on lifestyle and promoting lifestyle value and photography. And I was just starting to talk about Box Brownie, one of my favorite, favorite apps or program or whatever.
Kristin: Programs… yeah…
Karen: It's amazing. So when we get the photos back on your home, and maybe we've done some drone shots as well, and maybe the drone shot got a highway in the distance, we can easily upload that drone shot to Box Brownie and take out that highway. We can make grass greener. We can add a pool if it's been snowed over in the winter, and you have an outdoor pool. We can again take out furniture. We can add sunsets. It's just so much fun!
And we can also do a floor plan through Box Brownie which kind of helps some of the higher end buyers really know and understand your home better when they can see that floor plan online, don't you think?
Kristin: Absolutely!
Karen: Yeah. So, we also do some really fun virtual tours and podcasts. We're setting up some podcasts next week where we're going to be walking around Broken Top and kind of explaining the lifestyle there. And then, we have podcast shoots scheduled throughout—Tetherow, up on the Butte—just so people can get a feeling for the lifestyle.
The other thing we do after photography is we say, "Okay, now we've got this great listing, incredible photos. We're ready to sell. How do we get the right brokers to the listing?"
Kristin: Yes. So we usually market to the top 50 brokers. With our luxury listings, there are certain steps. We do like a prior to listing notice or coming soon to the top 50 that have sold similar properties. For example, if we have a property that is in Broken Top on the golf course, we'll look at the agents that have sold specifically golf course properties in the past six months or year and reach out to them. If it's Ranch at the Canyons, we'll look at those that have recently sold at Ranch at the Canyons…
Karen: …or riverfront.
Kristin: …or riverfront, and reach out to them first.
Karen: …in this price point.
Kristin: …in this price point, absolutely.
We invite them to do a special preview and keep them apprised as to when the listing will go live on MLS and the Internet. So it's kind of just saying, "Hey, keep your eye out. This is coming! If you'd like to preview it before it's available, let us know." And then, throughout the listing, if we have changes or any…
Karen: We keep in touch with those brokers.
Kristin: Yeah, absolutely.
Karen: Yeah. And then, we also have broker opens. And those really vary upon the listing. And again, this all goes back to lifestyle. What time do we want to have our broker open? Well, if it's a home overlooking town, and it has gorgeous sunsets, then we'll do it at sunset time. If it's a home on the river, we'll pick which time of day is the sun going to be reflecting off the water, and that's when we'll plan our broker opening around. And is it going to be wine and cheese?
It's just all about timing and how can we attract people there.
Kristin: It is. And we really also look at what's happening around town. We want to make sure that it's not—we don't do a broker open let's say during first Friday or conflicting events…
Karen: …or the Brew Fest.
Kristin: The Brew Fest, probably not a wise time to do a broker open. But we do take into consideration the property as well. If it's at Ranch at the Canyons, a little further out of town, maybe we'll choose a different time. We take everything into consideration…
Karen: …so  that we can get the best turn-out possible and showcase your home to the right brokers.
I think the other thing that is important to do—and this goes back to the SeedSpring section that Kristin kind of mentioned. That's our marketing team—is the real geographical targeting. And I know she touched on that briefly. If we see a lot of hits from the Portland area, we'll go ahead and we'll get into the Lake Oswego paper which has really done well for us in the past.
Kristin: It has!
Karen: And if it's in the Bay Area, we use the San Francisco Chronicle. So we do try and hit the areas that we see coming in with other forms of advertising other than just the Internet, so that we're kind of coming in with two punches. We're doing our best to get that exposure and get those potential buyers looking at these higher end listings.
The other thing that we have to offer is special signage. And of course that's neighborhood-specific too. If you're in Broken Top or Pronghorn or Ranch at the Canyons, Brasada Ranch, you have your own HOA signage. But if you're not in one of those areas, we have really a freshly designed sign that's just for the RE/MAX Luxury Collection. And it looks great, don't you think?
Kristin: I love it!
Karen: Yeah, it's like black-and-white. And it looks very luxurious. So…
Anyway, if you have questions about marketing any higher end home, please visit us at NestBend.com. As realtors, the concept of home as our family business, all three of us I think are so thankful to those that have allowed us into their lives to assist in such an emotional endeavor as selling a home. Some of our sellers hate to leave Bend, and some of them need to leave Bend. It's always an individual situation. And sometimes, it's not the best situation, but we're always there. And we treat each property in a unique fashion.
So, we also appreciate the unique challenges that marketing higher end homes involve. So again, visit us at NestBend.com.
Kristin: Thank you.
Karen: You're welcome. Thanks, Kristin, for being here. I appreciate it.