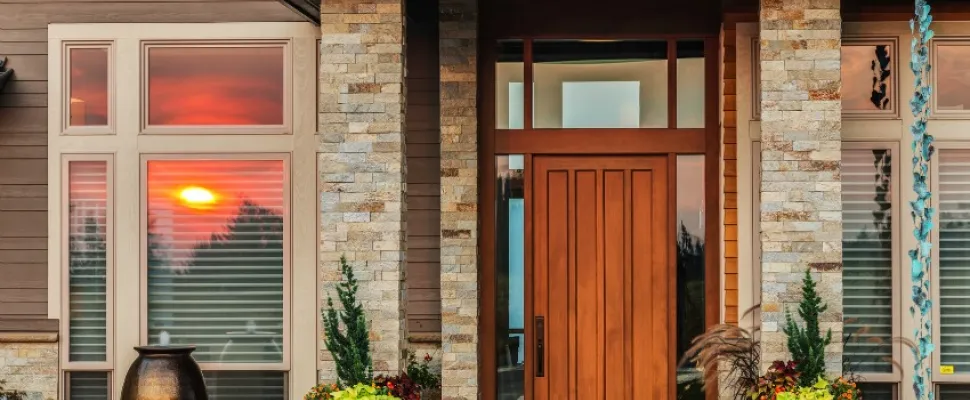 How to Give Your Home Curb Appeal in 8 Steps
---
It's time to sell your house, where should you begin? First step – make sure that it has curb appeal.
Simply put, you need to make your house look as attractive as possible – from all angles – so that a potential buyer driving past the property will look at it and think, "What a lovely house. Yes, I could live there."
More importantly, if someone has made an appointment to look at your house and is driving up to it for the first time, it is essential that the first impression they receive is a positive one. Otherwise they may be subconsciously prejudiced against your house from the start.
Here are a few tips on how to ensure that your home has "curb appeal."
Keep lawns and flowerbeds well-manicured.
An overgrown lawn, with dandelions flowering everywhere and tufts of weeds poking out along any sidewalks are a sure turn-off. Keep that lawn mowed! You know best how long it takes your lawn to grow, so mow once a week or once every two weeks. Don't mow the grass too low, however.  Grass needs a minimum height to stay healthy (this minimum height varies depending on the type of grass) and cutting it shorter than that to save on the amount of times you have to mow will harm the grass and may well kill it.
If you have flowerbeds, make sure they are well-cared for as well. Weed them on a regular basis. Bright colors always make the exterior of a house look cheerful and inviting. However, do not add any flowerbeds if you don't already have them. Caring for flowerbeds is a lot of work – as you know if you do have them – and anyone who purchases your home might decide to do away with any existing flowerbeds altogether and just go with a nice lawn!
If you have no flowerbeds, consider adding pots full of flowers to flank your porch or door. These flower pots can be moved around, obviously, and are easy to care for. Once your house has sold you have the option of taking these flower pots with you to your new house.
Don't neglect your backyard! Even if your backyard is fenced in using a wooden privacy fence, it should still be mowed on a regular basis just to keep the yard healthy. And make sure you weed-eat around the edges of the exterior side of the fence.
Repair fencing.
If you have a fence around your property, make sure that it is in good repair. If there are any holes in a wire fence, have them repaired. If it's a wooden privacy fence, and the color has faded to the same color throughout the entire fence, that's fine. But if some panels are differently colored, consider staining the entire fence the same color. A uniform appearance looks much nicer than a fence with a haphazard look to it!
Repair any sidewalk/curb/driveway cracks.
It is essential that you keep your sidewalk in good repair, not only for the sake of appearance but also because it's dangerous to have cracked or broken sidewalks due to the incursion of tree roots, for example. This is especially true if you live in a location that gets a lot of snow. Water will get into a crack in the sidewalk, freeze, melt and re-freeze, and by the next summer small cracks will have become larger ones.
Have all sidewalks repaired if necessary. In some cities, the city itself will take care of laying fresh sidewalks and send you a bill. Discuss your plans with your homeowner's association (if you have one) to make sure you hire the right people to fix your exterior sidewalks.
If you have any cracks in your driveway, the cost of having a new driveway poured could be prohibitive. But have the cracks sealed so that potential buyers know they won't get any worse.
Repair any porch or deck steps.
The same principle holds true for the steps up to your porch, or the steps to your rear deck. If the steps up to your porch are crumbling, or if the porch is crumbling, get it repaired. When a home inspector takes a look at the house at the behest of a potential buyer, he or she will make note of any crumbled steps and you'll have to fix it at that time, or reduce the price a bit to cover the cost for the buyer of fixing it. So it's just best to fix that porch before people even start looking at the house.
Repair windows.
If you've got crumbling caulk around your windows, have a handy-person come in and re-caulk and seal all windows to give them a uniform appearance.
Powerwash your home and paint if necessary.
If you've got siding on your house, power wash it (using a professional) to eliminate all dirt which usually collects up near the roof.
If you have wooden siding, paint it if necessary.
Do a walk around.
If you have a corner lot, or if your rear yard is visible from the street, make sure you pay attention to the appearance of your home at every angle.
Keep up the maintenance.
If you aren't available to mow lawns, shovel snow during the winter and so on, hire a handy-person to do this for you. The exterior of your home should look well cared for at all times. You never know when a potential buyer might drive by!