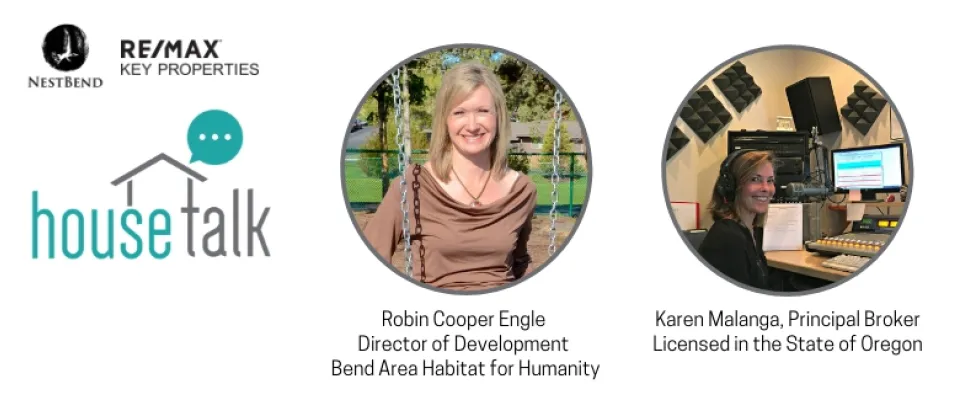 How Does the Habitat for Humanity Program Work?
---
https://nestbendrealestate.com/wp-content/uploads/2018/10/House-Talk-Show-19-Robin-Cooper-Engle-Habitat-for-Humanity.mp3
KAREN: Hi, this is Karen with House Talk, and I'm so excited to welcome Robin Cooper Engle here. She is the Director of Development for the Habitat for Humanity here in Bend. It's so nice that you could take some time away from your day today, Robin. Thank you for being on House Talk.
ROBIN: Thank you for having me.
KAREN: You bet. There's a lot of things about Habitat for Humanity that I don't think our listeners know or understand. I know that there's a few topics you want to touch on, so why don't you start? Then I'll just chime in periodically.
ROBIN: Okay. Maybe what people don't realize is that families purchase the homes from us. I think that's pretty valuable to know.
Some of the things that we have going on right now, we're under development on our first cottage home project. It will be for four families here in Bend, off of James Drive just above the Old Mill.
KAREN: What defines a cottage? How many square feet is a cottage?
ROBIN: Well, we have a variety of them there. The smallest will be roughly 600 square feet and I think the largest will be about 1,000.
KAREN: Being a real estate broker, I obviously know where that road is, but tell our listeners where it is so they can drive by and maybe take a peek.
ROBIN: If you're heading west on Reed Market, you would turn north on Silver Lake and then go east on James Drive.
KAREN: So you're really in between – you're close to Brookswood. Kind of?
ROBIN: No, not that far. We're really just above the Old Mill. Silver Lake goes north and south, and we're just east of that.
KAREN: That's super nice. What a great location.
ROBIN: It is not bad. We back up to 97. Easy to get to a lot of things.
KAREN: Easy to get to a lot of things. With a cottage, is it on a smaller footprint, a smaller lot?
ROBIN: It will be. That whole site will have a total of five homes, four of which will be Habitat homes, and then we're partnering with the gal who helped us design the homes. She and her family will live in a small one as well that she will be building.
The site is not real huge. There will be shared green space, so not defined fencing and all of that. But the families will still own their homes.
KAREN: That's terrific news. Is this the first cottage development for Habitat?
ROBIN: It is, and I still think there's maybe just a few that are going on in town right now. So we'll be still in the early stages, learning with everyone else.
KAREN: That's really exciting news. What else is going on over there?
ROBIN: We also get to benefit from the Riverhouse Gala in January of 2019. We're really excited about that, and we're in the process of selling tickets and just letting people know how they can support us that way. The goal is to sell out the event before the end of the year. We'd love to have the support of the community.
KAREN: What goes on at the event at the Riverhouse?
ROBIN: It's a five course gourmet meal that the Riverhouse provides. We'll have entertainment, we'll have a great host and MC, and we'll have all kinds of live and silent auction items. It'll be a lot of fun.
KAREN: How many people are you hoping that you can have attend?
ROBIN: We can pack up the house at about 500. Anywhere between 350 and 500 would be awesome.
KAREN: How can people find out information about the Riverhouse?
ROBIN: A lot of things on our website, bendhabitat.org.
KAREN: That's great news to hear. What else is happening over there at the ReStore? I think a lot of people don't understand when they drop off that old door or maybe that small pile of siding; what are they providing there for Habitat for Humanity?
ROBIN: That's a great question. Our ReStore serves two purposes. One for the community, so people can drop off doors or cabinets or appliances, and it keeps all of that out of the landfill. They can also find great deals on all kinds of building materials, appliances, and furniture.
But for Habitat, it helps to provide and cover our overhead expenses. We just hit, not quite a year ago, the ReStore is covering 100% of our overhead expenses. So every time someone donates to help us provide housing here in Bend, 100% of that donation goes to provide for families here.
KAREN: That's amazing. That means you're getting a lot of donations, though, too, and a lot of activity and a lot of people purchasing, right?
ROBIN: We are. The ReStore definitely speaks to the Bend community, and it has been a very successful model. It is definitely supported, and it's very visible on Third Street on the north end.
KAREN: Yes, it is. I love the fun architecture on the outside and just how creatively it's been built. It's super fun.
ROBIN: So many hands came together to make the ReStore possible at the location that we're at. It's pretty endless, all the wonderful partners that we had, whether they were building it or creating it or designing it.
KAREN: What days are you open?
ROBIN: The ReStore is open for regular business Tuesday through Saturday. Mondays are just for donation receiving. So you can drop off your donations Monday through Saturday, but for actually purchasing items, that's Tuesday through Saturday. Tuesday through Friday is 9 to 5, and Saturdays are 10 to 4.
KAREN: I know I got there one morning like Tuesday at 9:00, and there were already people in the parking lot. I thought, oh my gosh, there's probably something special in here and I'm going to miss it if I don't run in.
ROBIN: That's right. You've got to check back almost every day. [laughs]
KAREN: Yeah, if you're looking for something, like marble or a piece of a countertop. I was looking for knotty pine for a cabin. Sure enough, there was a knotty pine bookcase in there, but it already had a "sold" sign on it.
ROBIN: It is quick. I actually was sharing with someone that I dropped off a china hutch on Monday, and I was walking through yesterday and it already has a "sold" sign on it. So things do not stick around. We are clearing house almost every day.
KAREN: That's terrific. We're going to take a short break, and we'll be back with Robin Cooper Engle, and we'll learn more about Habitat for Humanity. Thanks, Robin.
Hi, we're back with House Talk, and this is Karen Malanga, Principal Broker at RE/MAX Key Properties. I've been visiting with Robin Cooper Engle. She's the Director of Development for Habitat for Humanity. We've touched on a few subjects in our first segment.
Robin, I'd like you to talk a little bit about how someone can partner with you with land or be a donor with land, because with Bend and the crazy amount of building that's going on, I don't see a lot of land. I know you need land to build houses, so how does that whole situation work?
ROBIN: It's quite creative, because they're not making a lot more land here. We have fewer land donors than maybe in the early years. Sometimes the city is able to donate some land, so we've had that over time. Currently we're working on – we were talking about the James Drive project; that piece of property was donated by the Central Oregon Collective.
KAREN: What's that? What's the Central Oregon Collective?
ROBIN: That is another nonprofit in Bend. They weren't going to be able to use that piece of land, so they were hoping that we could build and serve at least one or two veteran families on that site. Actually, out of the four, we're serving two veteran families.
KAREN: That's great.
ROBIN: Every now and then something like that happens. We have another project that we're still under development on, on the west side of town, College Way and Portland. It's kind of in there. We're hoping to build nine homes there. It'll be another cottage home development. It's a partnership with a gentleman in town.
So it's being creative. We have a current site – our Kayak Loop property was actually a property that we purchased when land wasn't as expensive a few years back. Instead of just putting one family there, we're splitting that in two. We're making it a duplex. The families will still own their units, but they'll be very small. I think it's constantly being creative with what is available.
We try to gather as many partners as we can to help us in those areas. Land is more challenging, so we try to find people who are in that realm all the time. We work with the Pahlisches; Bev Pahlisch is on our board, so some of her folks can help us in that arena. Some other folks on our board have been able to really help with that.
So it's constantly getting the pulse of the community and figuring out where we can be a part of things.
KAREN: If someone did have some land or maybe they have a home on a lot that is sub-dividable, then they could contact you if it was a program that they wanted to participate in?
ROBIN: Definitely. We always can be creative. We can purchase it, we can try to get some costs down to see what makes it the best. But it's really always about maximizing that piece of property because we're going to have to build differently than we have ever done.
KAREN: Yeah, probably smaller and a little closer together.
ROBIN: Definitely.
KAREN: Yeah, definitely. I also saw that you have a section on your website – and I think you said during our break that it's a new section – and that's that Legacy Giving.
ROBIN: Yes. That really is to help Habitat not only be sustainable now, but for years from now, so that we can continue to serve families beyond, maybe when none of us is doing what we're doing now.
People can give out of their wills and their trusts. There are many different ways. Stocks, bonds. Houses if they have a house that they want to give us. We can always sell that or rehab it and put a family in it. We're hoping that – we also were able to start an endowment earlier this year, so we can add to that as we go.
KAREN: For some people it can bring some income tax benefits, correct?
ROBIN: It can, yes.
KAREN: Do you have a financial advisor that can help people on that, or they should go to their own?
ROBIN: Usually people go to their own, but we do. C. J. Baxter with on our board. There's also another gentleman that we can put people in touch with as a wonderful partner.
KAREN: So there's a lot of ways that people can give to Habitat.
ROBIN: There are. If someone's a subcontractor and they have time or energy, they could either donate the time themselves or we can buy the materials and they donate their labor, we can do a combination of things. We would love to partner with more of the community.
Our goal this year is serving nine families. We would love to be at 10, and there are probably enough families in this community to be serving 20.
KAREN: I would think so, definitely.
ROBIN: As everyone has little bits to give, there's a lot of creative ways that we can partner with the subcontractors, the donors, the individuals. It's really endless.
KAREN: When I was exploring your website, I did see where you have two builds that you're taking bids on for different subcontractors. So if you're a subcontractor, what do you do? Just contact Habitat? Is there a form to fill out?
ROBIN: We do have – we call it our in-kind form. It helps us to know what they are donating or discounting. We do suggest checking in with your accountant, but most of the things that people can do with us are tax deductible. We give them a thank you letter that has our tax ID so they can turn all that in at the end of the year.
But yeah, they can contact us. Jacob Clark is our Director of Construction, but if it's easier to contact me, I've had plenty of experience in that too and can direct everyone to Jacob.
KAREN: Then my other question is, with everyone being so busy this time of year – I mean, it took me 1 year and 4 months to get my kitchen counters replaced after a flood because everybody's busy. [laughs] Can they do some work on the weekends? It's probably fitting into a pretty tight construction schedule, but maybe some flexibility if someone's willing to help?
ROBIN: There is flexibility, for sure. If our subs are licensed folks and they're doing what they do every day, we can send them into the house on a weekend or an evening when it works for them, definitely. We're very flexible.
KAREN: That's great to know. That might open up some more avenues for you as well.
ROBIN: Definitely.
KAREN: Your website is actually very good. For those of you that don't know how to find it, it's just…
ROBIN: Bendhabitat.org.
KAREN: Yeah, it's awesome. I didn't know that you had a whole poker-playing site as well. [laughs] We're going to get ready to take a short break, but we'll be back to learn more about how you can play poker and help Habitat for Humanity.
Welcome back to House Talk. This is Karen Malanga, Principal Broker at RE/MAX Key Properties, visiting with Robin Cooper Engle from Bend Habitat for Humanity.
Before the break, I was mentioning that I'd gone on their website and I saw that you could play poker at Jake's Diner. It's not just one time – I mean, Robin, it's like every Monday night. [laughs]
ROBIN: It is every Monday night. Lyle Hicks with Jake's Diner, his daughter benefitted from purchasing a Habitat house back in I believe 2006. It was very meaningful. After that, Lyle really wanted to figure out how he could support Habitat.
So they've been having these weekly poker tournaments for years. They are poker games, and then they do a tournament this coming Monday night. After you've done really well all year, then you get to be a part of the tournament.
I wish I had that number off the top of my head, but they have raised probably well over $50,000. We're probably up in the $60,000s over many years.
KAREN: Wow. With people playing poker.
ROBIN: Yes. So really, whatever you do out in Bend, you can be a part of Habitat. If you want to volunteer, that's meaningful for us. If you like to sing, you could sing at a home dedication.
We have a home dedication coming up this next Friday, the 28th of September, and that really is the culmination of everything that we do. It's our "why." It's the day the family gets the keys to their house. Most of our families are purchasing the house for the first time, so they're getting the keys that day. You could be a singer at that. You could be a singer at an event.
If you like to write, you could come and write about the wonderful people that come and build on our homes every single day. That's how we build. People from the community, bankers, breweries, real estate agents – it's pretty endless. We've got lawyers, doctors that come out and build with us every single week. They're the ones that are building these Habitat homes.
We still have to go through all the guidelines and permits and inspections just like any builder, but many hands really come together to make it happen for Habitat.
KAREN: Can you tell me a little bit more about a dedication? What happens at a dedication for a home, other than maybe someone volunteering to sing? Which would not be me because I can't sing. [laughs]
ROBIN: Home dedications are such a great way to see what has come together to provide for a family. A home dedication is the day that a house is completely finished. The families can start moving in. We do a little ceremony, we thank our donors and the volunteers that came together to make it happen. We let the family share from their heart, so it's usually very emotional, lots of tears.
It really is such a beautiful picture. Habitat can't come to a community and just make these things happen. It takes hundreds of people and thousands of hours and time and money to come together to build a house for a family. They're just such a special event, and we tend to have quite a few people that come.
We'll serve some food and give a tour of the home. We'd love to have you. It's at 11:30 next Friday, the 28th.
KAREN: That sounds like a lot of fun.
ROBIN: Address on our website. [laughs]
KAREN: Always go back to that website. [laughs] You've gone over a lot of ways that people can partner with Habitat, from just even volunteering at the store.
ROBIN: Right, definitely. That's always fun. If you enjoy a retail atmosphere or customer service, there's always a need for folks to help in the donation receiving area. We get lots of donations, and lots of them are heavy, so people can help move those in and out of the store. Things don't stick around, so you might see it today and it'll be gone tomorrow. We have people that stage the furniture so things look really nice when you walk in.
KAREN: Oh, you do? I didn't know that.
ROBIN: Yeah. Some people come in late at night, and that's their thing. They help make it look like a living room.
KAREN: That would be fun, I would think.
ROBIN: Yeah, there's something for everyone. We have a wonderful graphic designer that donates his time when we do any kind of marketing promotional items. Like I said, we partner with all the subcontractors.
We work with a lot of folks in the real estate industry. We have folks when they sell a house that some of the proceeds benefit Habitat and the homes that we're building. Putting it back into the community like that is pretty amazing.
KAREN: Yeah, that's a great avenue. We've touched on a lot of things on the business end of Habitat; what about how someone can qualify for a home? Where do they begin that process?
ROBIN: Not to get into a ton of detail, but we look at three things. We look at the need of a family, we look at their willingness to partner, and their ability to pay. Kind of from the bigger view there.
Their need in our community really is unaffordability. They're living somewhere, they're renting somewhere that is unaffordable for their income. We want a family's mortgage payment not to be more than 33% of their monthly income. Their rent in our town now could be anywhere from 40% to 50% or 60% of their monthly income, so it can be a real challenge.
The families that we're serving could be making $14 to $25 depending on their family size and where their income falls. That's a good chunk of their money just going to housing, so that makes it challenging if they have children – and almost all of our families do, young children. So the need here is unaffordability.
Their willingness to partner is a huge piece for us. They understand that they are buying a house from us, they are helping with the closing costs – they're in a savings program for that – and they have up to 500 hours of sweat equity. That's their time on the construction site, time at our ReStore. They can help me with events. They have an extensive amount of financial education classes that they're expected to complete; that's a big portion of our program. A lot of those hours get taken up by that.
All of that we consider willingness to partner, so you understand how to be a successful homeowner.
KAREN: Before the show ends, can you touch one more time on the Riverhouse Gala? I know that's a big fundraiser for you, and super important.
ROBIN: Yes. This is the first time that we've gotten to benefit from it, at least in the last 15 years. It's January 21st of 2019. We are hoping to pack up the house as best that we can, and we're hoping to raise $300,000.
KAREN: That's your goal.
ROBIN: That is our goal. That's a big goal. We are looking for folks to donate live auction items – vacation rentals, trips if they've got it, all kinds of different auction items that they can donate. Buy tickets, buy a table. We'd love to have that. We've got some great support already, but there's a ways to go still.
KAREN: There's always more to come, right?
ROBIN: Always. [laughs]
KAREN: What's the best way for people to reach you and learn more about everything we've discussed today?
ROBIN: Bendhabitat.org, or feel free to call me: (541) 508-8681.
KAREN: Thank you so much, Robin, for being on House Talk. We appreciate it.
ROBIN: Thank you.
https://media.blubrry.com/house_talk_bend_oregon_real/p/nestbendrealestate.com/wp-content/uploads/2018/10/House-Talk-Show-19-Robin-Cooper-Engle-Habitat-for-Humanity.mp3
Podcast: Play in new window | Download
Subscribe: Apple Podcasts | RSS