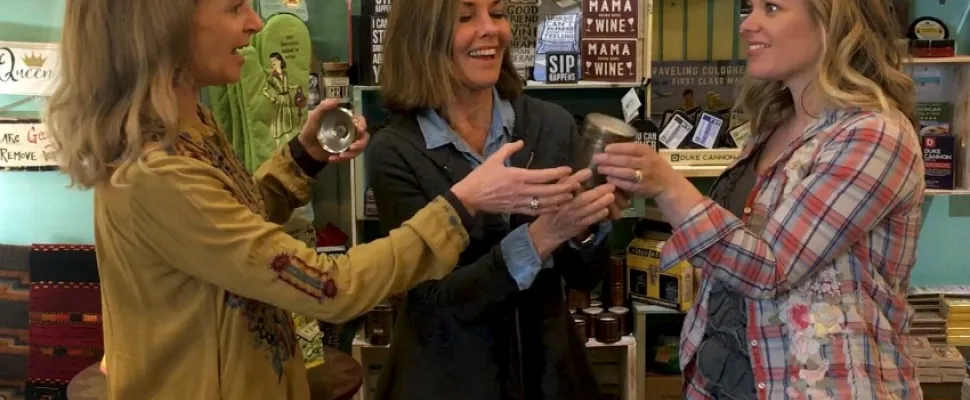 Home Accessories at Desperado in Bend, Oregon's Old Mill District
---
Home Accessory Tips from Rebecca of Bend, Oregon's Desperado – House Talk Episode 51
https://nestbendrealestate.com/wp-content/uploads/2018/01/House-Talk-Desperado-Home-Accessories.m4a
Karen: Hi this is Karen and Kristin with NestBend and House Talk. We are so excited to be in Desperado today. Desperado is my favorite store in the Old Mill.
Kristin: Love it!
Karen: This shirt is from there. This sweatshirt is from here. So today, we're excited because we're going to be showing you their home accessories. And we're so excited for you to meet Rebecca. She's fantastic! And she's been with Desperado for years.
Rebecca, thank you so much for having us here at Desperado. So tell us about these candles. I know that we're kind of switching seasons. My house has been smelling like a Christmas tree. So what can I smell like now?
Rebecca: Well, this is the time of year that we want to bring a little warmth and humor into our home. So it's probably time to get a new scented candle. Like you said, it is time to get rid of the sugar cookie and the evergreen and bring some [cross-talking 00:50].
Karen: What is this one called? Wow!
Rebecca: Isn't that nice?
Karen: I love this grapefruit.
Kristin: Oh, it's amazing!
Rebecca: And this is something… it doesn't have to cost a lot. You can generally get these for $25 to $30. And my other idea is try lighting one in the morning. Have it in your kitchen as everybody is coming down to breakfast. It adds a nice aroma. It adds a nice glow to your kitchen. It's sort of that moment to say, "Ahhh…" before you start your frantic day.
Karen: And look at how lovely the container is.
Rebecca: Absolutely!
Karen: Can we get a close-up here with our House Talk film crew?
Kristin: They all are.
Karen: Look at what a nice gift this would make. I think this is awesome!
Well, thank you, Rebecca. Let's look around at some other things as well.
The other thing that Rebecca has here at Desperado are these. And I've actually been giving these away. They're hysterical.
Rebecca: Everybody needs oven mitts in their home.
Karen: There you go!
Rebecca: These are great as gifts. And you know what? They're inexpensive enough that you can buy a couple for yourself as well. And why not? You need to have an oven mitts in your house. They are washable. But let's face it, you need to replace these about once a year.
Karen: Sure!
Rebecca: You might as well have a bright-colored one and something that says something humorous.
Karen: Like my favorite salad is wine.
Rebecca: Exactly!
Kristin: It's great.
Karen: This one is perfect. Also, this one, "Dropped the new recipe on your ass." Oops… should I just say that actually? Yes, okay.
Rebecca: You'll find one that speaks to you for sure.
Karen: Yes.
Rebecca: And then, the other idea is right on the other side of this is we have a huge variety of fun dish towels.
Karen: These are funny.
Rebecca: This is something everybody needs in their kitchen. Why not have it with something that is humorous and makes you laugh. There's lots of different varieties to chose from. They make a great gift. They're $10.95. They're not expensive.
Karen: It's a perfect hostess gift.
Rebecca: Totally!
Karen: Yeah. Who knew that Desperado with all the wonderful clothes and shoes that you have also has this great corner for fun décor, hostess gifts to just brighten up your home for the spring and winter? That's great.
Rebecca: You know, we like to have something for everybody.
Karen: You do! Yeah, I'm excited. It's so fun to be here.
Rebecca: Good! I'm glad you guys came by.
Karen: Thank you.
https://media.blubrry.com/house_talk_bend_oregon_real/p/nestbendrealestate.com/wp-content/uploads/2018/01/House-Talk-Desperado-Home-Accessories.m4a
Podcast: Play in new window | Download
Subscribe: Apple Podcasts | RSS