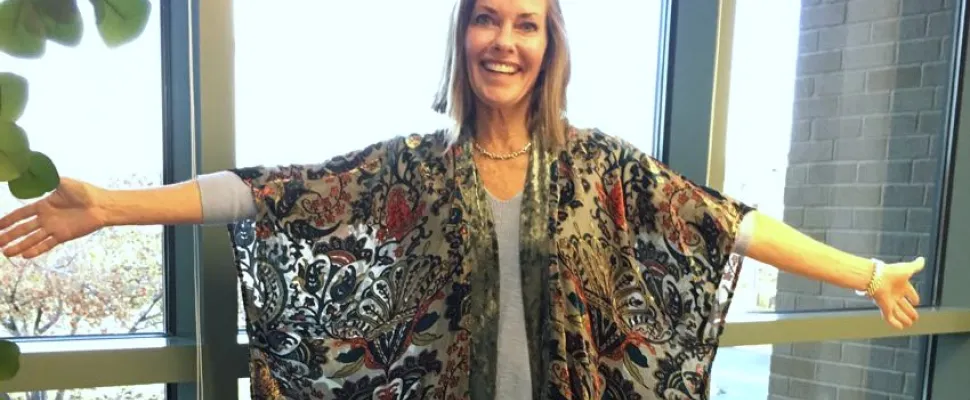 Holiday Wardrobe Advice with Rebecca Meade of Desperado in Bend, Oregon
---
Holiday Wardrobe Advice with Rebecca Meade of Desperado in Bend, Oregon – House Talk Episode 48
https://nestbendrealestate.com/wp-content/uploads/2017/11/House-Talk-Desperado-Trunk-Show-1.m4a
Karen Malanga: Hi, this is Karen Malanga with another edition of House Talk. I'm so excited to have Rebecca Meade from Desperado back on our program. I'm actually wearing one of their kimonos, which I think she's going to tell us is just perfect for holidays. They are having a trunk show this Saturday as well. I plan on going. It's with boots I believe.
So, Rebecca, welcome. And please, give us some holiday dressing tips and tell us a little bit more about the trunk show.
Rebecca Meade: Okay. Well, let's just start off with the trunk show because it is this Saturday. It is handmade boots from Israel. The company is called Jafa. They're in gorgeous, gorgeous leathers and beautiful colors, lots of gem tones.
Karen: Ah, nice.
Rebecca: We like to call them "walking on a cloud" because they're definitely wearable, they're very lightweight. And it's something worth coming in to see.
Karen: Oh, I'm excited! And are they good for the winter as well in Bend?
Rebecca: You know what? I would say some of them have traction on the bottom. So yes, they do work for winter.
Karen: Ah, that's what I like.
Rebecca: There's a few of them that I'm like, hmmm, you would not want to be in a Central Oregon winter. I mean, they are made in Israel, so you may have to carry them into work. But yes, there are some with traction bottoms, and they'll work just fine.
Karen: That's great! And now, tell me what to wear for this holiday season?
Rebecca: Well, I think the holidays are such a great time to think about maybe dressing up a little bit. And it's festive. It's a time to be with people. But then of course you're in Bend in Central Oregon, and so it's hard to find that place that you're going to have something really fancy.
Karen: Yes.
Rebecca: So, my favorite outfit is a piece actually to add to your wardrobe—and it's the kimono. And we have them in beautiful silks and velvet.
Some of the velvets have embroidery. Some of them are velvet burnout. And they're on a wide price point. So you can get one for as low as $69.95 up to say a Johnny Was that's an investment piece that's going to cost you like $300.
But what's nice is you could put them literally over jeans and a shirt And you wear it with your boots for a more casual look. But it's also perfect over a sheathe dress. And it's something then dressy and something elegant if you have that event to go to.
Karen: And they're light in weight, so it can even be underneath a parka.
Rebecca: Absolutely, absolutely. It can travel well.
Karen: It can glamorize a parka.
Rebecca: Sure! I mean, no one wants something that they're going to wear once. So this is something that you're going to be able to wear year round. It's a perfect, little jacket in the summer. But it's going to be a great piece for your wardrobe throughout the holidays.
Karen: I think throughout the whole year too. I mean, I can imagine. I am going to have to come down and shop because I'm loving the one that I'm wearing right now. And I can even see wearing this for Les Schwab, for a concert or…. Yeah, yeah.
Rebecca: Absolutely! And I mean, gorgeous [jewel] toned. And that kimono is $69.95. It's not going to break the bank. And it's something you're going to wear for a long time.
Karen: I so love having your store in Bend. And it's so nice being down in the Old Mill district and being able to walk around. It's getting ready for the holidays.
So, how does someone find Desperado? And how do they come and get one of those kimonos?
Rebecca: So, we're next to Naked Winery. And we're also by Orange Theory which is just opening up. So we're kind of in the busier end of the Old Mill district right now.
Karen: That's so nice.
Rebecca: And so, our work hours, we're opened 10 to 8, Mondays through Saturdays; Sundays, 11 to 6. So we've got lots of fun things that will be happening all through the holidays and lots of great, great outfits and shoes to buy.
Karen: Okay! Well, I'm definitely going to come in and see you.
Rebecca: Thank you!
Karen: Thanks for coming.
https://media.blubrry.com/house_talk_bend_oregon_real/p/nestbendrealestate.com/wp-content/uploads/2017/11/House-Talk-Desperado-Trunk-Show-1.m4a
Podcast: Play in new window | Download
Subscribe: Apple Podcasts | RSS