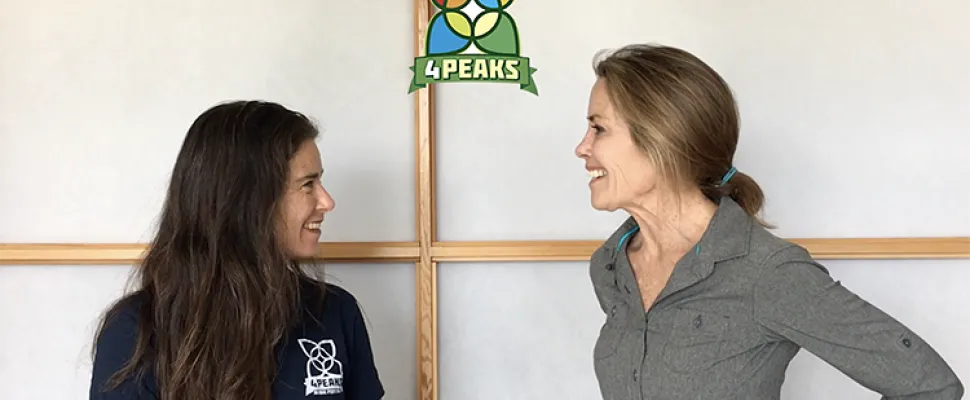 Get the Scoop on the 2019 4 Peaks Music Festival!
---
KAREN: Hi, this is Karen Malanga, Principal Broker at RE/MAX Key Properties in Bend. Also, I have a new company called Pinecone Lending, so if you're thinking about selling your home, we offer listing improvement loans that are paid at close of escrow.
That's the end of promoting me. I'm really here to promote Stacy Koff and 4 Peaks Music Festival. Stacy, can you tell us what's going on?
STACY: Yeah, thanksfor having me, and congrats on the Pinecone.
KAREN: You'rewelcome. [laughs]
STACY: Yeah, June20th to 23rd out at the Stevenson Ranch again in Bend.
KAREN: Which issuch a great location.
STACY: It's sogreat. It's beautiful, and it's shaping up nicely out there right now. We'reactually doing some improvements for this year. Gosh, we have a brand newproduction coming this year.
KAREN: Super.
STACY: Yeah, forall the families coming and Kidlandia and the Junction area. We're divvying upwith different ways this year. We have tepees again out there, a movie underthe stars for the families, silent disco at night, yoga in the morning. Justlots of activities besides the 22 amazing bands that are coming.
KAREN: For those ofyou who haven't been to 4 Peaks, because you might not know what she's talkingabout when she says Kidlandia and stuff, the best way to find out about it isto go to 4peaksmusic.com.That's the number 4.
STACY: Yeah, 4peaksmusic.com.
KAREN: But also, Iwas on your website and I was looking at the yurts, and they seem so cool. For$920, you can rent a furnished yurt, so you don't even have to worry aboutfilling your camper or supplies. You just simply pull up to the festival andit's furnished – and you get two passes to the festival. Am I right on that?
STACY: It's allincluded. You just basically roll up in your car, and it's like a red carpetrolled out for you. They're beautifully furnished yurts.
KAREN: Are they?
STACY: If youhaven't seen them, there are pictures on 4peaksmusic.com. You can also get an unfurnished one if youwant to bring your own gear but you want your hut/yurt set up for you. It's by campingyurts.com. Those are amazing. We have a few left, sosome of those are left as well as you can buy an RV pass and bring your RV, youcan tent camp, and it's all with your car. And if you're local in Bend and youwant to go home at night, you can do that too. You don't have to camp.
KAREN: Is the yurtcompany a local Central Oregon company?
STACY: They areCentral Oregon, yes.
KAREN: Nice.
STACY: They comefrom Summer Lake, I believe.
KAREN: Oh, I loveSummer Lake. No wonder they're making yurts. That's perfect. [laughs]
STACY: Exactly.It's great.
KAREN: So you'vegot the yurt option, your own camping option, you can bring an RV. You can alsorent an RV, too.
STACY: You can,yes. Happy Camper and Beaver Coaches is doing a rental program for us thisyear, so you can call them, and there's two tickets or four tickets dependingon the RV you want rented. They bring it onsite for you, and all you have to dois show up as well. The RV passes are included with that.
KAREN: I think oneof the funnest things, too, about 4 Peaks, because I've been going for a while– it used to be a tiny festival and it keeps growing, even with Los Lobos thisyear, so some really recognizable people – but it's the people that have comeevery year. There's this one great gal, and she's got the total vintage camper.
STACY: Oh, Chris.
KAREN: Is that her?Then she's got the vintage clothes, and when her camper doors are open, oh mygoodness –
STACY: It'sbeautiful. It's decked out.
KAREN: And shecomes out all in costume for the music. It's so much fun.
STACY: It's really"let your freak flag fly" kind of thing. It's really anything goes. Yeah, youcan set up your beautiful retro camper or go home at night, like I said.
Yeah, Los Lobos,the Wood Brothers this year – they were up for a Grammy. We've got BillyStrings. He's an incredible bluegrass virtuoso. Rising Appalachia is closing itout on Sunday, and we have Sunday passes if you just want to come for the day,as well as Friday and Saturday we have day passes as well.
KAREN: Right nowit's time to get your tickets, though, because it's getting close.
STACY: It's gettingclose. Locals can go down to Cosmic Depot as well. There's still a discountthere. You can actually save a nice chunk of money by going to Cosmic Depot.
KAREN: Plus it's agreat store.
STACY: It is agreat store. [laughs] I've been there.
KAREN: Anyway,Stacy, what's the best way, again, for the audience heret o find you?
STACY: Sure, 4peaksmusic.com. All the information about camping andfamilies and what to bring, what not to bring, all your options – and again,there's tickets at Cosmic Depot as well.
KAREN: Thank you somuch, Stacy.
STACY: Thank youfor having me.
KAREN: You bet.
STACY: I'll see youout there.
KAREN: I'll see youat the festival.