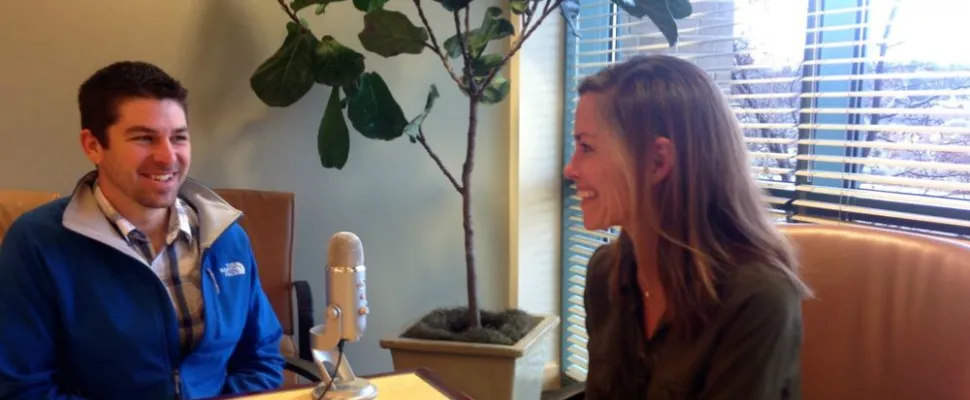 First Time Homebuyer in Bend, Oregon: A Conversation with Justin Taylor
---
House Talk Episode 4 – First Time Homebuyer in Bend, Oregon
A Conversation with Justin Taylor, Hydroflask engineer!
Be the first to know about new episodes, scroll down to subscribe!
https://nestbendrealestate.com/wp-content/uploads/2016/03/Justin-Taylor-First-Time-Home-Buying-1.mp3
Karen: Hi. This is Karen Malanga with Nest Bend Real Estate in another edition of House Talk. Today, I'm so excited to welcome Justin Taylor. Kristen couldn't be here today, but thank you Justin for joining us.
Justin is a first time home buyer in Bend, Oregon. He came here from Arizona and he's working with Hydro Flask. What I appreciated so much about Justin during the home buying process is that he has an engineering background and his attention to detail was amazing.
Justin, what would you like to share about your experience here so far?
Justin: I want to say thank you for having me today and Kristen was sad she couldn't be here. But what I really want to say was I was happy to work with Karen because she answered all the questions that Kristen and I had and there were a few I think –
It was our first time and I would like to say we were nervous going into it. We know we contemplated this. Do we want to embark on this?
We really don't know what questions we should be asking and I think that Karen did a really good job of helping us through the process from start to finish and now we're in our new home.
Karen: Thank you, Justin. And what I loved is that he has that engineering side of him, so he has attention to detail. Many times we'll get home buyers and they just want to buy a house, but Justin really needed and wanted to know everything about the house, the property lines.
There was an odd jog to his fence that took some research. Do you want to talk about that fence line?
Justin: Yeah. The fence line, it is the interesting. The first thing is there are so many things that go into just building a house. And so when I thought about buying a house, I'm like, "Wow, there are all these things I know that I don't know." And Karen was able to help me with those things.
The questions about the fence line, "Why is this fence line is placed here? I like it to be in a different place. How do we go about making sure that in the future I have the ability to make that change if I want to?" And Karen was really there to work with the county and to work with the sellers, the real estate agent and figure out how I can best move forward with that if I wanted to in the future.
Karen: Yeah. And then also Justin and Kristen also had what many times a common situation where we might have a repair that has to be done, but it can't be completed during the transactional process and it's going to have to happen after.
And they were really accommodating with that and I don't think everyone always understands that sometimes you have to have a home inspection. Maybe there is an appliance that's broken and the seller agrees to fix it. It may not be fixed closing. And we went through that with you as well, Justin.
Justin: Yeah. It was really cool what Karen did, what you did. You helped in a way. We want to move in and it's our first home and we're really excited. We're like, "Okay, our goal is to just have it be really easy." Move the stuff in and not have to worry about a broken dishwasher…
Karen: Which we had.
Justin: Yeah. That was it. We did the inspection. Mike did that for us. He did a great job. He says, "You probably want to get this fixed. It's leaking." That was a great call in his part.
By the time, we're ready to move in, we're like, "Hey, we're going to move in this weekend. We haven't quite finished that. We have the new dishwasher, it's sitting on the floor, but how do we get this finished?" And you just jumped in and you had a guy that could come over and make it happen for us.
Karen: Yeah, he did. He came over on Saturday, didn't he?
Justin: It was either Saturday or Sunday. I don't remember.
Karen: Yeah.
Justin: And to be fair, I think I was out of town at that time. So Kristen was at home and it was really easy for her to get that taken care of.
Karen: I'm glad everything worked out well with you. Now just a little bit of extra information, what brought you to Bend? How did you pick Bend?
Justin: Bend, of all places, it's beautiful here. But what really came down to was a friend of mine. He told me, he said, "Hey Justin. This is the place. You want to move here. You love riding mountain bikes. You love…"
Karen: You do love mountain bikes.
Justin: "…hanging out outside, hiking, all those things."
And then as an engineer, it's tough to find jobs up here, but there's this company called Hydro Flask. I'm looking at the bottom of this bottle that I've been using for about over a year. I'm like, "Made in Bend," and I knew it was made in Bend. He's saying, "Oh, Bend is great." I'm like, "Man, I wonder if they have a job for me. I wonder if they have something I could do for them." And it turned out that they did and I flew up here and had an interview and decided that this is the place. I fell in love with it.
Karen: Bend is like that. People come here and visit and then they just want to stay.
Justin: Yeah. That's the story. And Kristen was the same way. She came up. At that time, she was onboard with all the stories. And she came here, she's like, "Wow. This is amazing." She loves the sun and she gets that during the summer.
Karen: Definitely.
Justin: The cold, she's like, "Ah, I'm not too stoked." But during the summer, she gets to go to the river and going around. So it's not just winter. It's sunny too. So what really is exciting for both of us is that I get to do my winter sports and she gets to go out and have fun in the sun in the summer and get a tan and float on the river. It's really exciting.
Karen: So it's a good mix.
Justin: It is. Yeah. It is.
Karen: Yeah. And I think you work with a great company. I happened to own a few Hydro Flask bottles myself.
Justin: That's great. We got some new colors coming out.
Karen: What are they?
Justin: We've got Pacific, which is this really cool blue that's coming out and Citron, which is a more like Margarita color that we have on our pint. So it was a really exciting time for us.
Karen: I bought a big brown one. Was that really big size? I take it to Bikram Yoga because I almost die in there and I just need to drink gallons of water.
Justin: If it's the biggest one, it's the Growler.
Karen: It's big and it's heavy when it's filled. But I got it in brown only because it wasn't black and everybody else's was black. So I know that that's my Bikram Yoga bottle, boy.
Justin: Nice, cool. That's exciting. Definitely that's a fun story. And part of the culture around Hydro Flask is how we develop "Ahhhh" within a product. And it seems like…
Karen: Like "Awe?"
Justin: Like "Ahhhh."
Karen: Oh, ahhh.
Justin: Yeah.
Karen: Okay.
Justin: And for me, when I was hiking in California, I got back to the car and had that big bottle full of ice cold water. I was like, "Ahhhh, this is awesome."
Karen: Yeah. There you go. Ahhhh.
Justin: Ahhhh. Yeah. So that's cool to hear your story.
Karen: And that's how you feel about your new home too. You have a sense of "Ahhhh."
Justin: It is. Every time I pull up my back into the driveway and I know when I open up the garage door, my toolbox is going to be right there and I got those projects that I'm working on. It's just nice to have that foundation and that grounding.
Karen: Yeah. I want to come over somebody and see your projects.
Justin: Absolutely, yeah.
Karen: That would be fun.
Justin: Yeah.
Karen: Thank you, Justin. Thanks for taking the time to be here today. And I look forward to seeing some of those new colors of Hydro Flask. Oh, one other thing, Kristen was able to get a job here too.
Justin: She is, yes. Kristen is a nurse. And she has worked at a couple of different hospitals, small and large. And now she's working in Redmond and she's really enjoying it. She started out on nights and now she's on days and she's got a really good family of people that she is working with.
Unfortunately, she had to go out of town. They went out for a couple of drinks last night and she's missing that and she's bummed. But when she gets back, they'll do it again I'm sure.
Karen: Well, that's awesome too. Thank you again for coming. I appreciate it.
Justin: Yeah, you're welcome. Thank you for having me.
https://media.blubrry.com/house_talk_bend_oregon_real/p/nestbendrealestate.com/wp-content/uploads/2016/03/Justin-Taylor-First-Time-Home-Buying-1.mp3
Podcast: Play in new window | Download
Subscribe: Apple Podcasts | RSS