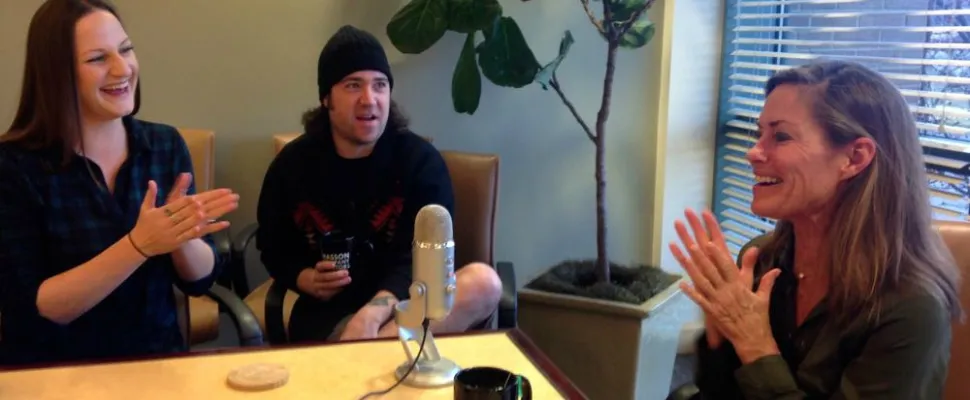 FHA Loans and the First Time Homebuyer with Zack and Liz
---
Listen to Episode 1 of House Talk – FHA Loans and the First Time Homebuyer with Zack and LizBe the first to know about new episodes, scroll down to subscribe!https://nestbendrealestate.com/wp-content/uploads/2016/02/Zack-and-Liz-FHA-Lending.mp3
Karen: Hi. This is Karen Malanga with Nest Bend Real Estate and my first podcast of House Talk. My first guests here are Zack and Liz Tickler and they are caterer to the rock stars, specifically Dave Matthews who I love and adore and they're first time homebuyers with an FHA loan.
So Zack and Liz, I'd love to hear about your home buying process and your experience and how you feel about it today now that it's over and you're in your home.
Zack: Cool. Thank you very much for having us Karen and thank you for guiding us through our whole house process. It has been really, really fun and exciting. And there are some great ups and downs, but first and foremost, you were really excellent and we had a great time buying a house with you and have recommended you already. So let's get…
Liz: You made the process very easy for us and it can be difficult for some people. So it was a very simple, simple process.
Karen: Thank you. Do you remember the hurdle we had with the fence and the FHA appraiser from, you know where.
Zack: Absolutely. So the FHA loan, it's really great for somebody who can't maybe necessarily put down the 20%, but still has the income for home ownership and all of the other birds and ducks in a row in that aspect.
There are just a couple of things, a couple of wacky things that it seems like they do in the FHA process that they don't necessarily do in a conventional loan process like a fence, an existing fence that was on the property that's in great shape, but just didn't have a weather stain and we had to try to get it weather stained in a time where it was below freezing and hail and snow and the whole other nine yards.
But eventually, we were able to tackle it and there are just those different odds and ends that may come up with an FHA or government loan that you wouldn't necessarily find with a conventional loan.
Karen: Yeah, I agree. I remember at one point the FHA appraiser calling me and saying, "I don't care what the temperature is. Get your, you know what, over to the rental company, rent a sprayer and spray it yourself." And I was looking at my phone thinking, "Did he really just say this?"
It's not my fence. I'm representing the buyer, not the seller. I don't have permission to go in the property and I'm going to spray the fence with a product that's not going to adhere because it's 30 degrees out or 10 or whatever we had.
Liz: Right.
Zack: Right.
Karen: Yeah, it was pretty funny. There were some moments during the process where I was so nervous that it wasn't going to close on time or that it wasn't going to come to fruition.
Liz: Right. There were a couple of hiccups, but we definitely were able to push through and we made it work. We're still getting told we need to paint the fence and we will.
But yeah, it's been easy enough after those hiccups. We went through it and now, we're in.
Karen: I know.
Liz: It's really exciting being first time homebuyers. We really love it. Yeah.
Karen: I think the wonderful part about working with you two is because you do travel the world, that we were able to do everything on docu sign and you were always so responsive, not only with me, but with the loan officer and that's one of the most important things, especially with your careers, just different time zones. "Where are you now?"
Zack: Yeah.
Karen: "I'm in Europe on tour." "Okay, well, whatever. I just need the signatures done."
Zack: It was a really cool process to be able to – it just shows how far we've come technologically to be able to buy a house, see pictures, digital walkthroughs and all of these really cool things that we couldn't have done 20 years ago even then.
Liz: Absolutely.
Zack: To be able to have somebody home base and a great realtor at home base to communicate that made it really easy for me because there were times where I was freaking out on the phone with her or via Skype or whatever it was and saying, "I don't know anything." This is our first time doing it and being 5000 to 10,000 miles away, whatever it was, can make you want to pull your hair out, but to be able to have all of that stuff lined up, I mean our loan officer was really great at helping us keep everything organized and in a way that I could view it from anywhere in the world.
Karen: Yeah.
Liz: And you also work with him, which was a huge difference to us because that's what made it so easy. And I was the middle man when he was gone, but…
Karen: You were the middle man.
Liz: But you were all able to communicate and especially with the loan officer. It all worked out. Yeah.
Karen: I think what's great is when you find the right home. And the minute we walked into that home, both of your faces lit up.
Liz: Yeah.
Karen: But you go through the process and at times, you hit this bumps or you go down into a valley and you think, "Oh, are we going to get there?" But then once you're in your home, those all become a distant memory and they fade away.
Zack: Absolutely. And being able to ask questions is another. There were so many times where we would have a conversation with one another, but we just didn't know. Everything was so new, going and getting a loan. People start throwing numbers and years and figures out and it can be a really scary thing, but to have approachable people makes it so much easier to just power it through and go, "Okay, they've done it 150,000 times. That might be our first time." But don't hesitate to ask those questions and we know that you're there to help, so don't be afraid to ask for help.
Karen: Yes.
Liz: And you were a huge help. I mean not only are we foreign to buying a house, but we are almost foreign to certain parts of this town.
Karen: Yes, you were.
Liz: We just moved here a year ago and it was way on the other side, out of town almost. And you were able to tell us, "Okay, you're looking at this house, but this is this neighborhood," and we were able to deduct from there, "Okay, we don't want to be here or maybe we're leaning towards this part of town."
That was huge too for us because where we ended up, we love. We love the whole area and I wouldn't want to live anywhere else in this town. It's perfect for us. Yeah.
Zack: It was great for us.
Liz: Yeah.
Karen: Well, it has the park with the Frisbee golf.
Zack: Disc golf, yeah.
Liz: Yeah.
Karen: Disc golf. Can you explain before we end here how you discovered Bend?
Zack: We actually discovered Bend, we were on tour with Dave Matthews and I want to say it was the summer of 2014, towards the end of summer. And we have had a day off in town and Elizabeth and I walked off the bus and said, "Where is this? Where are we? This does not seem like Oregon." We're used to Portland, gray skies and people too busy to talk to you.
And we had a friend of ours who was already living here to take us around town and show us the river and all of the stuff that you could do within five minutes of anywhere in town. That was it. It took us one day and passing through, it took us one day to figure out that we want to retire here.
Liz: Yeah. We went back to the hotel that night and started to look on Craigslist and Zillow and that was it. We were in Sonoma County. We never wanted to leave and both of us are traveling the country and we've seen the country and don't want to go anywhere else. But the second we walked off the bus and saw this town, that was it for us.
Karen: Love at first sight.
Liz: We loved it enough to buy a house. So yeah.
Karen: Thank you so much for joining me this morning.
Liz: Thank you.
Karen: I really appreciate you two.
Liz: Of course, you too.
Zack: Thank you so much, Karen.
Liz: Yeah, Karen. Thank you.
https://media.blubrry.com/house_talk_bend_oregon_real/p/nestbendrealestate.com/wp-content/uploads/2016/02/Zack-and-Liz-FHA-Lending.mp3
Podcast: Play in new window | Download
Subscribe: Apple Podcasts | RSS