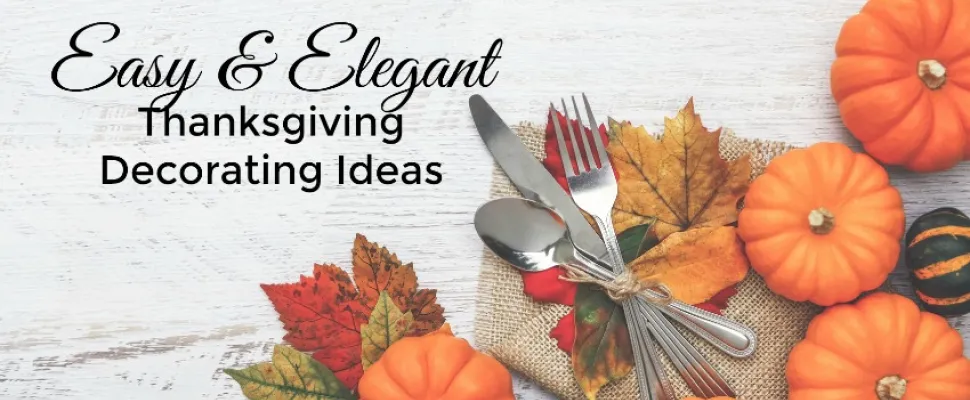 Easy and Elegant Thanksgiving Decorating Ideas
---
Thanksgiving is a time family to come together and give thanks for their many blessings. Decorating the outside and inside of your home is a great way to create a festive environment and make everyone feel welcome.
Remember that elegance is all about understatement. An element here and there comes together as a whole and makes the décor complete.
Here are some easy and elegant ideas on how to decorate your home for Thanksgiving:
Outside Your Home:
Arrange a group of pumpkins of varying sizes on your porch, and perhaps include a miniature bale of hay or two. This is a traditional decoration that signifies warmth and welcome.
No bales of hay? Hang a wreath of yellow and gold maple leaves on the door.  If you hve a bench next to your front door, place a couple of pumpkins (of unequal size) on that as well.
For a contrast, purchase a large basket, turn it on its side and fill it with various size pumpkins and gourds. Wrap a garland of maple leaves around its top and within.
Another option is to buy a few potted mums of different colors. Wrap the containers in burlap fabric secured with twine or ribbon. Place a few pumpkins of varying sizes and colors at their base.
Inside Your Home:
Repeat a motif
Tiny pumpkins and gourds evoke Thanksgiving so use them as decorations within your home as well: as part of a table centerpiece, on top of your fireplace mantle, or even on the sides of your stair treads (if your stairway is wide enough so that they can be so placed without danger of being tripped over.)
Table centerpieces
Simple cream colored vases make a wonderful counterpoint to autumn-colored dried leaves (the bright reds and yellows of maple leaves, for example) or if you have your own pomegranate, persimmon or apple trees, snip off a branch or two (with the fruit still on!)  and arrange them in the vases so the rim of the vase takes the weight of the fruit. That looks a little bit bare until you complement the fruits with bits of leaves as well.
Take a large wooden tray of appropriate length and place it in the center of your table. On it, place several candles – white, orange, red, whatever colors you like – of varying heights and widths. Make sure they are scentless as you don't want their aroma to detract from the food. Intersperse fresh fruit and gourds to continue the theme of bounty and blessing.
It's easy to make mason jars into charming centerpieces. Tape a maple leaf on one side of a mason jar. Then spray paint the entire jar red or orange. After the paint has dried, remove the leaf. This results in a quaint little window into the interior of the mason jar, into which you can place a wide white candle.
Purchase pumpkins in a variety of sizes from large to small. Cut off the tops and hollow them out. Use them as planters, for succulents or for an array of dried flowers.
Thankful tree
A Thankful Tree can be a miniature pine tree, or several branches placed within a large, rock- or hard-shelled nut-filled half-gallon or gallon jar.  Cut thin rounds of wood from a 3" diameter branch, and write simple one word items for which you're thankful onto each round. Drill a hole into the top of each slice of wood (available from Etsy and other sources), and tie each one onto one of the branches to ornament the tree. You can also leave the ornaments blank and invite your guests to write something they're thankful for and hang it on the tree.
Get Your Children Involved!
A fun tradition is for you and your children to get together each year and create a decoration for Thanksgiving. Each year, create another decoration. On the bottom of the decoration (or wherever possible) paint the year in which the decoration was made.
Children's creations can be placed on the door of the refrigerator, or given a place of pride as centerpieces or decorations on a mantelpiece or on walls.
These crafts can be very simple – painting a paper plate brown, attaching construction-paper feathers of orange, yellow and red around the upper half, and painting in eyes, beak and even little legs. Instead of painting the eyes, go to a craft store and pick up a package of "googly eyes" that can be pasted on.
Teach your kids the history of thanksgiving by showing them how to create a miniature Mayflower which can be used as a table decoration as well. Just cut paper milk cartons cut in half. Decide which end of the carton will be the prow and pull it out a bit into a point. Then paint each carton brown. While the paint is drying, cut white, unlined paper (copy paper) into strips for sails in three sizes, each gradually wider. Punch holes into the top and bottom of these sails. Thread them onto white drinking straws and leave them bowed a bit to give the impression of wind blowing through the sails. To make sure the sails remain standing, affix the drinking straws to the bottom of the box using a small piece of clay. Make sure the "billowing" of the sails faces the prow of the boat!
References
http://www.today.com/home/thanksgiving-decorations-diy-pumpkin-centerpieces-your-table-1D80274537
http://www.countryliving.com/entertaining/g1371/thanksgiving-decorations/