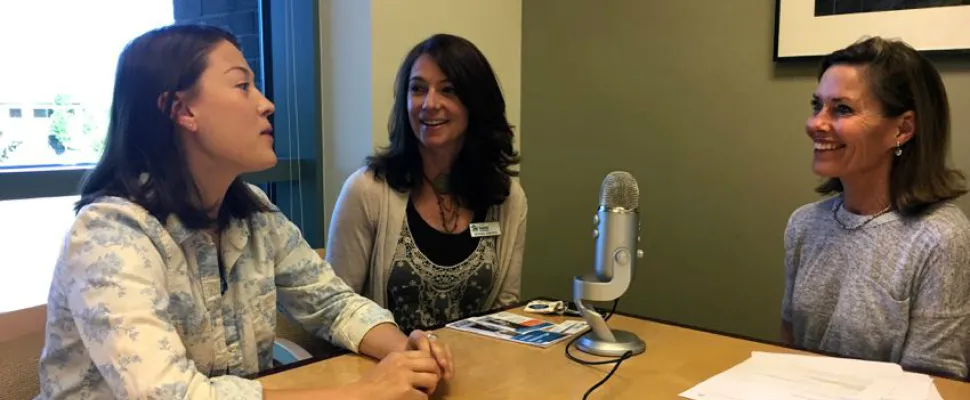 Bend, Oregon ReStore is Adding 3,500 square feet of New Retail Space!
---
House Talk Episode 41 – Bend, Oregon ReStore Expansion – Adding 3,500 square feet of New Retail Space!
https://nestbendrealestate.com/wp-content/uploads/2017/06/Restore-DD-Paige-Episode-1-Edited.mp3
Bend ReStore's new addition scheduled to open this week!
Karen Malanga: Hi, this is Karen Malanga with another edition of House Talk.
I am so excited to welcome back to House Talk Paige Shull, the Sales and Marketing Manager for Bend Area Habitat for Humanity. And we're really lucky today because she brought along DeeDee Johnson. And DeeDee is the Director of Family Services for Bend Area Habitat for Humanity.
So, DeeDee and Paige, welcome to House Talk.
DeeDee Johnson: Thank you.
Paige Shull: Thank you. Glad to be here.
Karen: I'm so glad you're here too. I'd like the two of you to tell us what's going on.
Paige:  Yeah! So, we have some big news at the ReStore right now. We're getting ready to open up the expanded part of the store which is a 6000 sq. ft. building.
Karen: I saw it when I was there shopping for a window. I couldn't believe how big it was. That's fantastic!
Paige: Yeah, it's hard to miss. There's been a lot of construction out in the parking lot, so we definitely thank everyone for their patience. It's been kind of a zoo, but we're really excited. So, we're hoping next week—next week, we'll be in the new space.
So, we will have 3500 sq. ft. of new retail space because we will be sharing the building with the office. It'll all be on kind of one large Habitat Campus.
Karen: That's very cool. So DeeDee, I think you can speak to this. A bigger store doesn't mean more profit for Habitat. What it means is more houses, correct?
DeeDee: Correct, correct. And what we love about it is, one, we're moving our offices over there too. So we're getting out of the lease that we have in a building that our administrative offices were in. So that makes it exciting for us to be with the team. And it's a lot of fun to be in the ReStore store. Our staff is excited about that too. But yes, it helps us provide more home ownership opportunities.
And what I love, love, love about the ReStore is that all those donations that contractors bring in and that individuals bring in go directly and stay directly in our community. And then it helps us directly serve our families because so much of the overhead is covering…
Paige: We're over 90% now. It's always been our goal to push towards 100%. But as the store generates more money, of course, our goals grow bigger too.
Karen: Of course.
Paige: Last year, we were saying that we were hoping to fund 10 homes a year. And we did seven I believe last year.
DeeDee: Yes. Winter is a little tough this year, so we're moving towards nine this year. And then, our goal is to move 10 to 20 homes.
Karen: Winter was awful. It wasn't tough, it was awful!
DeeDee: Yeah! Yeah, yes. We managed. We pulled through. And we're getting ready to do another home ownership selection cycle and hopefully bring another four to five families in the program. And then, we have a housing information session for those that are interested in moving forward with us in the next year on July 5th at 5:30 at the downtown library.
Karen: That's great!
DeeDee: So if you've got some interest in home ownership or how,  we do our program there. You're welcome to come. We invite realtors to come in and listen, so that they can make appropriate suggestions to people who might be a fit for us. So, we're really excited about it.
It's a huge opportunity for us with the ReStore. And we're all really excited to serve more families in Bend.
Karen: Well, I can't believe how much the ReStore has grown. And even since Paige has been coming to be on House Talk, it's just been exploding. I know the need for housing is very strong here in Central Oregon. And I do go by your projects like the one on the way to Pilot Butte because I like to walk the Butte. And so it's right there on the west side.
DeeDee: Yes, yeah. Yeah, that's where we serve three families. And so they're all very, very excited about that too. So yeah, it is.
Home ownership is very difficult. Land costs are very expensive for us right now in Bend.
Karen: I can imagine.
DeeDee: So, fighting and serving affordable homeownership here in Bend, it's a different market. I think people may not realize that an income of $1800 to up to $4900 a month might qualify them for Habitat programs. So I think people need to break that thought, that maybe home ownership in Habitat really could be for them.
Karen: Yeah.
DeeDee: It's tough here in Bend. And and we're really excited to serve our hardworking families.
Karen: Well, thank you both for being here today. And now that I'm thinking about it, we could easily put a link on our website, NestBend.com, for Habitat, and that might be really interesting. Some homeowners or people that think they want to be homeowners could be looking at our listings in Bend and thinking, "Oh, my gosh! It's so expensive here." This could provide an option. So we'll go ahead and add that to our website.
DeeDee: Thank you.
Paige: That's great.
Karen: So, Paige and DeeDee, what's the best way to find the ReStore and to find the two of you?
Paige: Sure! So, the best way to find the ReStore, if you're headed north on 3rd street, we're a block north of Revere on the left across from McDonald Robberson Ford, Wagner Mall area.
Of course, you can go to our website, ReStoreBend.org. There's a lot of information there, extensive information on what we accept as donations. I know we have a lot of people who question that.
Karen: Sure!
Paige: And so, ReStoreBend.org is a great resource. And you can find us at the north end of 3rd street.
DeeDee: Or BendHabitat.org, there's a link to the ReStore from there as well. And then, if someone's interested in home ownership, they can just click on the Home Ownership tab.
Karen: So now—well, in the future, and the future is coming up like next week—DeeDee, they'll be able to find you at the ReStore too because your office will be there.
DeeDee: Yes, yes.
Karen: Alright! Well, thank you both for being here today. I really appreciate it.
DeeDee: Thank you.
Paige: Thank you so much.
https://media.blubrry.com/house_talk_bend_oregon_real/p/nestbendrealestate.com/wp-content/uploads/2017/06/Restore-DD-Paige-Episode-1-Edited.mp3
Podcast: Play in new window | Download
Subscribe: Apple Podcasts | RSS