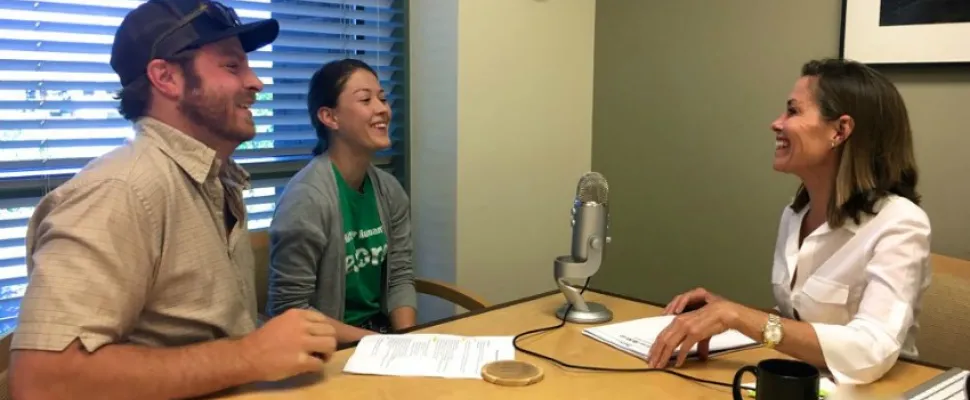 Bend, Oregon Habitat for Humanity ReStore – What it is and How to Get Involved
---
House Talk Episode 15 – Bend, Oregon Habitat for Humanity ReStore – What it is and How to Get Involved
A conversation with Nick and Paige of ReStore
https://nestbendrealestate.com/wp-content/uploads/2016/07/Nick-Paige-from-Habitat_Edited.mp3
Karen Malanga: Hi, this is Karen Malanga with another edition to House Talk. And today, I'm excited to have Nick and Paige from Bend Habitat ReStore. Personally, I've been shopping at the ReStore. I'm restoring an old cabin up at Pomona Lake, and I have purchased windows, and sinks, and old wood. It's a fantastic resource. And while I was buying, I thought, "How did they get these items here?"
So, I'm hoping that Nick and Paige can tell us how to donate, and how that process works.
Paige: Sure, great. So, first off, thanks for using us a resource, that's awesome.
Karen: Oh, I love going there. It's different every day too.
Paige: Oh, absolutely.
Karen: You have to go everyday almost.
Paige: Yes, you do.
Nick: You do.
Paige: We want things to move quickly. We're definitely not wanting them to stay there. We're  getting about 60 donations a day right now in the summer.
Karen: Wow!
Paige: And so, we want folks to know how easy it is for them to donate their used items. So, we are accepting donations Monday through Saturday, 10:00 to 4:00 just at the location. So, you can just bring your items down and we'll help you out. We have lots of volunteers that are eager to receive your donations.
Karen: And what are the number one things that people donate? I've been purchasing windows—old windows, which are awesome. I'm waiting for a great French door unit, and so those are some things.
Paige: Oh, yeah? We get those from time to time.
Karen: Yeah.
Paige: Yeah. So, building materials, furniture, and appliances—big units. Steer clear of the items that you typically think Goodwill. So small home decor, clothing, those aren't really our thing, but definitely, the larger building materials and furniture.
And we actually offer a great service where we could go out and get those larger items. And so, Nick can tell a little about how that works.
Nick: Yeah, absolutely. So, we offer a reclamation service out there for folks who want to uninstall their cabinets, not HGTV it and throw the sledge into it. So, we offer that service. We'll come out, we'll take a look at what you have to donate and see if it's something we can sell through the store, and then schedule a time.
So [we have] a nice group of volunteers who are very skilled and uninstall everything. It usually takes about half a day.
Karen: I would think. So, if I was going to remodel my kitchen, say, and I was going to get new cabinets, before I would have the contractor come in and just demo the whole thing, call you first, you come out and then you see if it's a product that you can use and that you can uninstall in a way that it would make sense for someone else to purchase it?
Nick: Absolutely.
Karen: So, they're not all wrecked out?
Nick: That's our main goal, salvaging usable furniture, cabinetry, building materials in general. So, it's a very smooth process for the homeowner or real estate agent helping out a home owner. It starts with an email of pictures.
We make a decision, come down, take a look, scout the project, look at what tools we need, and then get you on the books.
Karen: Well, that can actually save the homeowner money too.
Nick: Absolutely!
Karen: Because otherwise they'd be paying someone to take it all to the landfill, unfortunately.
Nick: Yes.
Karen: And the cost of hauling and demoing, and all that, can be probably alleviated to some degree.
Nick: And the risk of damage to other parts of the house when you are going at it.
Karen: Oh, yeah. I've seen the results of that many a time—it's the big "Oops."
Nick: Yeah.
Karen: Yeah. And then also, do they get to be able to write this off on their taxes as a donation?
Nick: Absolutely. We give an itemized tax donation slip. We are not responsible for coming up with a price for that. That's between the donor and their tax person. But we do create an itemized list, and it's very helpful should we be doing big projects.
Karen: That's terrific. And then, Paige, what moves the fastest at the ReStore and what could you always use more of?
Nick: Furniture.
Paige: Furniture and appliances actually. Both of those move really quickly especially electric appliances—everyone's trying to get those. But then, furniture it's like you said, it's different furniture every single day.
But I did want to kind of tie it back to Habitat as well.
Karen: Sure!
Paige: I'm saying, we want to provide this service, but also by donating you're providing a service to the community. So, with the new store, I'm not sure if people are aware, we did move locations about a year and half ago to this beautiful and huge location.
Karen: I love the location.
Paige: Yes. And there's some history to it. It used to be Backstrom Builder Center just here for a while. But by moving there, we're actually able to cover over 90% of Habitat's operational cost. And we're trying to gear up to build 10 homes a year.
Karen: That's terrific.
Paige: Yeah, and we're getting there. We're building seven homes this year, so it's making a difference for lots of families.
Karen: I think it's a full circle. It's something I think in our community that's so important. Someone donates some cabinets, those cabinets then get used somewhere else. And in the meantime, the profits from the purchase of those cabinets for whoever is recycling them gets to go into a fund to build homes for our community. There's really nothing wrong with this whole operation.
Nick: No. No, it makes perfect sense.
Karen: So, it makes complete sense. So, I'd like you guys, both of you, to tell us what your new address, best way to reach you, and any other information.
Nick: The new address at the ReStore is 224 Northeast Thurston Avenue. It's across from the North McDonald's and Robberson Ford—if you're familiar with Bend, the old Backstrom Builders location.
We're open Tuesday through Friday for sale, 9:00 to 5:00, and then Mondays 10:00 to 4:00 for donations, and Saturdays 10:00 to 4:00 for sale. And the best way to reach us is (541) 312-6709. We're at ReStoreBend.org.
Karen: Oh, that's a terrific website.
Paige: And the website is probably going to be the quickest way if you want to set up a donation pickup (we also have a pickup service). We can be a ways out, but if you have some time to still wait for us, we have a form on our website that you can quickly fill out what items you have, attach pictures. And that's on ReStoreBend.org on the donation tab.
Karen: Okay. And one more question, Paige. I didn't want to interrupt you. But can people also just make a donation to help you build these homes? If they don't have cabinets or lighting or something to donate, can they just simply go on ReStoreBend.org and make a cash donation?
Paige: Yes. So, there is a link to make cash donations. And then BendHabitat.org is going to have all the information there for making a donation using your credit card that way for cash donation, absolutely.
Karen: Alright! Well, I thank both of you for being here today.
Nick and Paige:  Thank you so much for having us.
Karen:  And for you listeners that haven't been to the ReStore, you actually have to go. Even if you don't need anything, it's really fun to walk through and see things. I saw lighting from the '70s. It was pretty funny.
Paige:  Oh, it's fun.
Karen:  Yeah, it's really fun.
Nick:  It's coming back.
Karen: And I can't believe your price on sinks, $25 for a good sink.
Paige: Yup, and $10 toilets. $10 toilets. They always come in, "Do you have any toilets? How much?" "$10." "All of them?"
Karen: Oh, this is awesome.
Nick:  "All of them?"
Karen: Okay. Well, thank you again and everyone just go to ReStoreBend.org. Thank you.
https://media.blubrry.com/house_talk_bend_oregon_real/p/nestbendrealestate.com/wp-content/uploads/2016/07/Nick-Paige-from-Habitat_Edited.mp3
Podcast: Play in new window | Download
Subscribe: Apple Podcasts | RSS