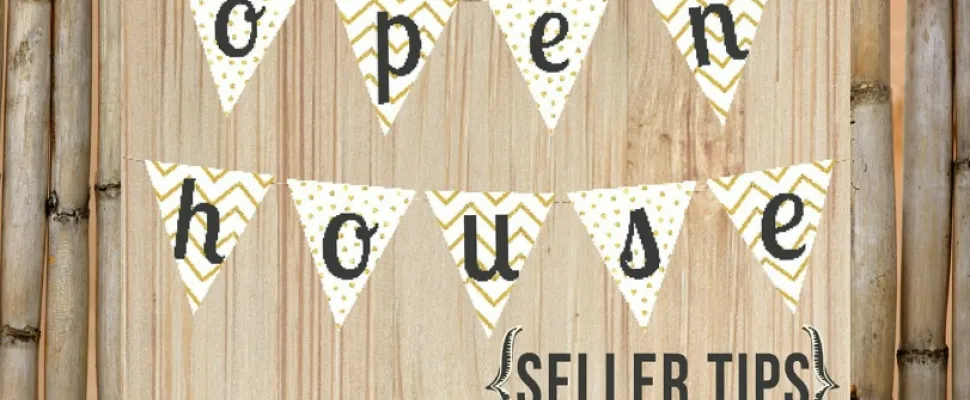 9 Open House Tips for Sellers + {Infographic}
---
Spring is here and with the warmer weather in Bend and Central Oregon many homeowners will be thinking about selling their homes to move to a larger property or downsize to a smaller home.
If you're thinking about selling your home here are 9 tips that will help you to have a successfully sell your home.
Tip #1 – De-Clutter Your Home
Go through your home one room at a time removing the items that you want to keep, donate or throw away. The goal with de-cluttering your home is to leave only the minimal essentials in each room so it looks lived in without leaving your personal stamp on the home.
Remember that you are moving from your home into another home so any items that you want to keep should be boxed up and placed neatly in your garage or a local storage facility.
De-cluttering may be difficult if you have small children because they won't understand why you're taking their toys away. In this case make sure you thoughtfully explain why you are de-cluttering and then ask them to choose a handful of toys that they would like to keep out while telling them that they will see their other toys again when you move into the "new house".
Tip #2 – Repair What's Broken
Once your home is de-cluttered you should take the time to go through your home room-by-room and search for everything that's broken and repair or replace those items. This step is important because when a buyer finds something that doesn't work or is broken in a home they will wonder what else might be wrong with the home so you want to put a buyers mind at ease.
You can often make all of the repairs in your home yourself for a few hundred dollars and save the hassle of receiving low ball offers from buyers since there's work that needs to be done in your home.
Tip #3 – Remove Personal Items from Your Home
As hard as it might be to remove your personal touch from the home you have to remove your personal items including photos, artwork, mementoes and other items that show you've lived there over the years because your goal as a seller should be to present your home as a "product" that needs to be sold rather than your "home" where you've made memories over the years.
Tip #4 – Clean Your Entire House
After de-cluttering and removing the personal items from your home you should next take the time to clean your entire home from top to bottom because a clean house is also something that will help your Realtor® sell your home faster.
Sellers who are unable to thoroughly clean their homes themselves should consider hiring a professional cleaning service since this will also help with cleaning hard to reach areas in the home as well.
Tip #5 – Focus on Curb Appeal
Now that your home is cleaned and de-cluttered you should next focus on curb appeal by cleaning up your yard space, planting new flowers and painting where it's needed.
To take your curb appeal the extra mile you should also rent a power washer and clean your driveway and sidewalk in front of your home as well.
Curb appeal is important because if a home looks "scary" that might be a reason for a buyer to not get out of their car to visit your home when they arrive.
Tip #6 – Make Sure Your Home Has Plenty of Light
Besides cleaning every window in your home you should also leave the lights on during the day since plenty of light helps a home to be more "cheerful" and it will also help to highlight the architectural features or benefits of your home.
Tip #7 – Confirm Security with Your Realtor®
When it ultimately does come time for an open house, or viewing of your home, you should confirm security with your Realtor® and make sure that each visitor will sign in and be within eyesight of the agent when they are viewing your home.
Tip #8 – Invite Everyone to View Your Home
Once your home is listed for sale you should invite everyone you know to view your home because this will also increase your chances of selling it faster since there may be a friend, family member or business associate who will forward your listing on to someone they know who is searching for a home.
Remember to send invitations to your email list and invite friends or family members you have on social media as well since these are often two places where people have the highest concentration of friends that they can invite to view their home.
Tip #9 – Take Your Pets with You When You Go
Do you have dogs, cats or other critters who share your home with you? If so, it's important that you take your pets with you whenever it's time for your agent to show your home because not every buyer likes animals and you don't want your pets to be something that turns off a potential buyer because they don't like animals.
Since cleaning up quickly before your Realtor® brings a buyer over will be important you should have storage baskets within reach so you can quickly put away your pet's beds and toys in the closet so they will be out of sight from buyers when they enter your home.
Home owners who own dogs should also search their yards for damage that their dogs may have created in the yard while you've owned them. You should be searching for holes in the yard, waste and other signs that you own a dog so that any thought of the dog won't be a distraction to the buyer.
For neighbors who have dogs you should ask them if they will keep their dogs inside their homes when you have buyers arrive to view your home because a neighbors barking dog can also hurt the sale of a home as well.
Learn More Tips for Selling Your Home
For more tips on how to successfully sell your home in Bend or Central Oregon click here to get in touch with us, we'd love to help. You can also find a wealth of information about Real Estate in Bend, Oregon at this link.
Here is a handy Infographic illustrating these tips from Landmark Home Warranty:
Share this Image On Your Site
Please include attribution to https://nestbendrealestate.com with this graphic.