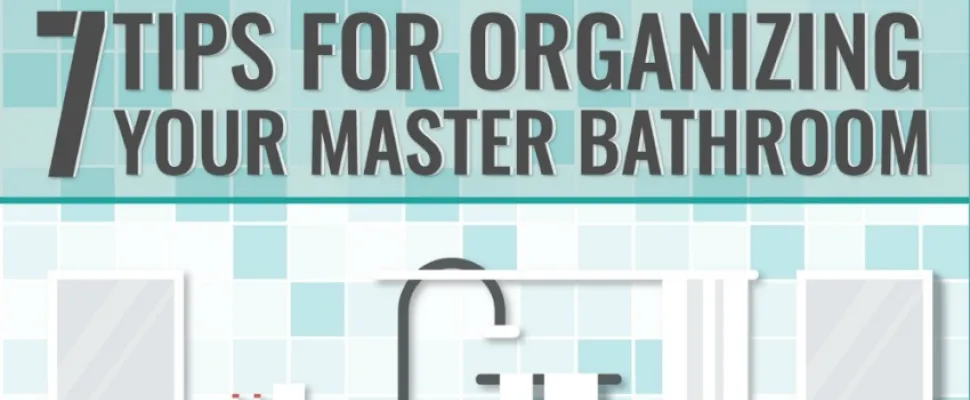 7 Tips for Organizing Your Master Bathroom {Infographic}
---
There's a belief that the larger a home is, the easier it is to keep it uncluttered. But often that's not true – many times, the more room you have, the more the clutter expands to fit it!
As with every other room in the house, the solution is organization. "A place for everything and everything in its place."
There are plenty of organizing tools crafted specifically for the bathroom.
Over-the-door hooks
A variety of manufacturers make over-the-door hooks in a variety of designs, from single hooks to "hook racks," or from double hooks to quad hooks.  Some come equipped with towel bars, as well. They can be made from wood, metal, or PVC. If you can't find a style you like at one of your local stores, shop around online.
Towel bars
Towel bars affixed to the wall near the tub or shower are an ideal way to keep towels organized and easily accessible. Designers have come up with double towel bars and even triple towel bars! Unlike over-the-door hooks and racks that do not need any special tools for installation, towel bars will need to be affixed securely to the wall(s) with the tools provided.
There are freestanding towel racks that will add a touch of elegance to the bathroom. You can also purchase a combination shower curtain rod-towel bar!
Over the shower-head shower organizers
If you've ever kept your shampoo bottles and soaps on the edge of your tub, you know that mildew and soap scum builds up underneath them pretty quickly. The same situation occurs even if your shower or tub unit has built in shelves. The solution is to have an organizer that hangs down from the shower head.
As with every other item, these shower organizers come in inexpensive models that may not look as elegant as you' like, to top-of-the line models that fit securely and look quite attractive. The added bonus is you'll no longer have to clean up all that soap scum!
Vanity, vanity
Like all household technology, bathroom technology continues to evolve. You used to be limited to a recessed, porcelain sink or two. Now, sinks can be semi-recessed or not recessed at all but rather situated right on top of the vanity counter.
If you prefer the look of a pedestal sink, you'll want at least one and perhaps even two vanities adjacent to it, complete with drawers.
Rather than jumbling items together in each drawer, install drawer dividers as appropriate.
For example, keep all your makeup together in a single drawer, with a divider design that will enable you to organize brushes into one spot, eye makeup in another, lipstick in another, and so on.
Install a medicine cabinet
Depending on the design of your master bathroom, you may not have room for a medicine cabinet above the sink. If you do have room, have one installed. They come equipped with a single mirrored door that opens outward, or two or three mirrored doors, dividing the cabinet appropriately.
Keep your medications and over-the-counter aspirins in this cabinet.
Toss out-of-date items and used-up containers!
It is quite simply a bad idea to keep old and expired medications around the house. Don't throw them away, either. Instead, find a location in your area that will take the medications. Do a Google search on "where can I turn in expired medications in [your town]" as a starting point.
Toss any empty bottles of makeup as well. If you've got bath salts or other items that you never use, get rid of them. Ask family or friends if they'd like these items, and if you're turned down, then trash them.
Over-toilet storage
Take advantage of all the space above your toilet to store a variety of items such as toilet paper and extra towels.
You can purchase free standing over-the-toilet cabinets, or build your own to suit your own needs and desires.
Share this Image On Your Site
Please include attribution to NestBend.com with this graphic.