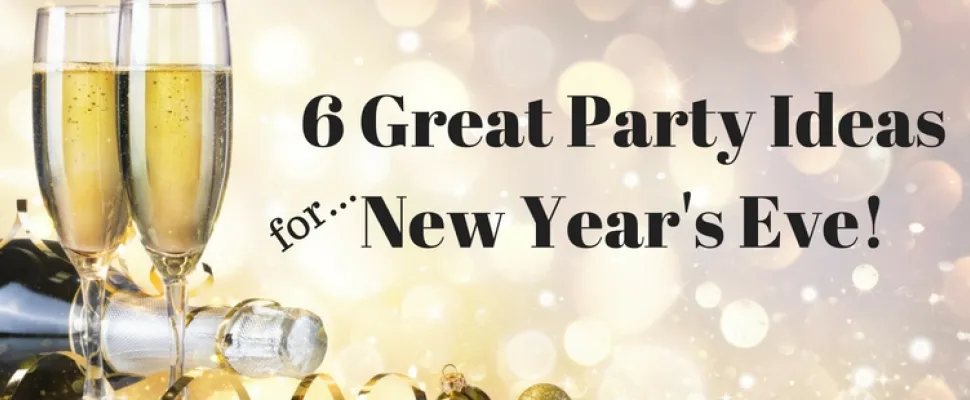 6 Great New Year's Eve Party Ideas
---
What's the main goal of a New Year's Eve party – apart from having fun? To stay up until midnight to see in the new year, with something special happening right at midnight to mark the occasion. This special event can be to go outside and bang pots and pans, to letting off fireworks, to simply raising a toast to the New Year.
How many guests?
When planning your party, consider the number of guests you are going to invite. A small, intimate party can be just as fun as one where your house is crowded to the gills. Be considerate of the people you invite and make sure, if possible, that everyone gets along and that everyone will enjoy the theme you have chosen.
Here are 6 Great New Year's Eve party ideas that you can modify to suit the size of your house and the number of guests you'd like to invite.
Super Hero Party
If you're a DC fan (Superman, Batman, Flash, Arrow, Wonder Woman, etc.) or a Marvel fan (Doctor Strange, The Avengers, Iron Man, etc.) why not have a super hero themed party where your guests come dressed as their favorite hero or villain? No need to be a stickler about which "universe" your guests can represent – if someone wants to come to a Marvel party dressed as Wonder Woman, more power to her.
Decorating your home can be easy with a little imagination. Superman's Fortress of Solitude would consist of panels of white Styrofoam arranged artistically around the living room. Bring in lots of computer monitors and perhaps a projector to throw the image of a bat on the ceiling for the Batcave.
Food can be anything you like, though shaped in appropriate designs. Cupcakes with red, white and blue frosting to evoke Captain America, for example.
Movie Lovers Party
If you're a movie fan but not into superheroes, how about a movie lovers party, where you invite couples (and singles!) who will come dressed as their favorite movie couples or characters – Rick and Ilse from Casablanca, Roger Thornhill and Eve Kendall from North by Northwest, Mr. Darcy and Elisabeth from Pride and Prejudice, Nick and Nora Charles from the Thin Man series, and so on.
Your home can be decorated tastefully with traditional New Year's Eve décor – a banner with the new year prominently displayed, scheduled to part at precisely midnight, for example, or turned into a miniature replica of Casablanca's Rick's Café Americain. The food can be as elegant or as casual as you'd like it to be.
Decades Party
Choose your favorite decade and invite your friends to come dressed appropriately. The 1920s and 1930s are always a popular decade as gin is the drink of choice, and since this was the decade of Prohibition it can be drunk out of teacups. Women wear flapper dresses, men wear long-sleeved shirts, spats, and grey fedoras.
In the 1940s, women wear their hair long ala the Andrews Sisters, and guys dress in Army, Navy or Marine uniforms. Women can come in uniform as well, of course – as a WAAF, WASP, WAVE, SPAR or even as a Rosie the Riveter.
The 1950s? Women wear bobby-sox, and the guys wear black jeans with the cuffs rolled up, and cigarette packs rolled into their T-shirts (and that's where they should remain, too).
Music should be appropriate to the decade, either provided by a discreetly hidden entertainment system or perhaps by a quartet of actual, live musicians.
Food should be appropriate to the decade. In the 1920s hors d'oeuvres such as deviled eggs, stuffed mushrooms, roasted nuts were popular. In the 1940s, the United States was just coming out of the Depression and also involved in World War II. There was rationing – so go with simple fare like baked beans, pigs in blankets, trays of cheese and cold cuts.
In the 1950s, barbecue started to become popular, as were casseroles. Go with appetizers like miniature club sandwiches, deviled eggs, and cocktail weiners.
Sports Party
It's a cliché that men enjoy sports such as baseball, basketball and football and women don't. If you're into sports, and have friends who share the same passion, invite everyone to come dressed in their favorite team colors.
Have a tailgate party and set up your barbecue in your drive way. Put up a hoop in the street (assuming you live in a cul-de-sac or in a neighborhood where you can safely block the road to prevent traffic accidents) and play games of H-O-R-S-E.
Foodie Party
Invite your friends to cook their best ethnic meal – whether they like Chinese, Thai, Mexican, English, French or regional American cuisine – and have them bring it to a food showdown party. Create anonymous score cards so all the guests can sample the foods (make sure everyone knows how many people to cook for) and at the end of the night, reveal the winners.
A foodie party would feature laid-back entertainment – soft music that won't drown out the good conversation.
Dancing the Night Away
A super hero-themed party, classic couple's party or a favorite decade party are ideal for dancing. But the decade party would just feature dances from that particular decade, while with a Dancing the Night Away party, you can challenge – or teach – your guests dances from every single decade. Hire a DJ to play the appropriate music. Set out buffet tables so your guests can eat in between switching partners to dance yet again.