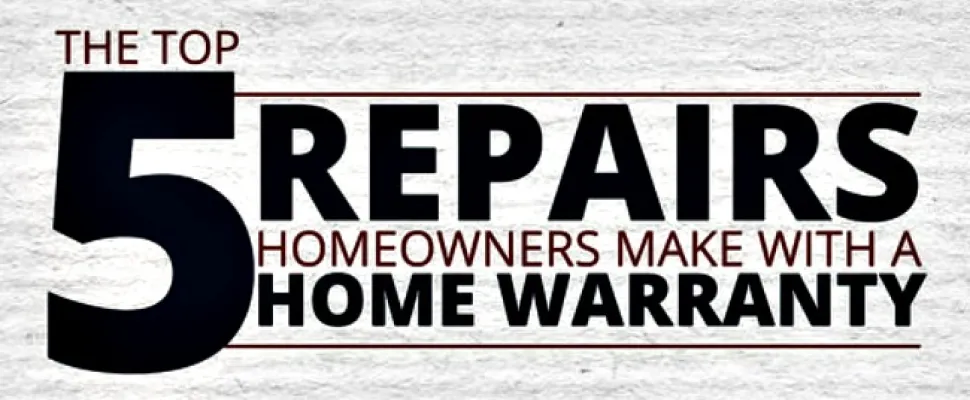 5 Repairs Homeowners Make with a Home Warranty
---
So you're thinking about buying a new home in Bend or elsewhere in Central Oregon and aren't sure if you should also purchase a home warranty.  Here is some insight into home warranties to give you the information you need to decide if a home warranty is right for you.
Instead of you having to pay the cost for repairing items in your home yourself if they are under warranty, you will submit a service request. The process works much like a typical insurance claim where a contractor will come out to your home to diagnose exactly what the problem is, determine if it falls within your warranty, then let you know how the problem will be repaired or replaced.
According to Landmark Home Warranty, here are the 5 Most Common Repairs that Homeowners make with a Home Warranty.
#1 – HVAC
Did you know that most homeowners across the United States will use their home warranties for repairing or replacing their HVAC systems? A typical HVAC system can cost more than $7,000, so it's a nice system to have under warranty is something goes wrong.
Let's say that you are experiencing issues with your HVAC system while it's under warranty, you will pay about $60 for the service fee to have a professional come out and inspect your HVAC system. If the problem is found to be caused from wear or tear, you will pay a discounted rate for parts and labor, or if your HVAC needs to be replaced you can expect to pay far less than what a new HVAC unit would cost.
Some of the top repairs or replacements that are made to HVAC systems each year include:
Freon Maintenance – This is necessary when the Freon in your HVAC system needs to be recaptured, recovered or recharged.Tune up – Every HVAC system should have a "tune up" in the spring because you want to insure that your system is running at 100% when summer arrives.Run Capacitor Replacement – Sometimes a run capacitor in an HVAC unit will have to be replaced since the motor can run hot and burn out due to normal wear and tear, but the good thing is that all you can expect to pay is the service fee for repair and replacement of this part.Filter Drier Replacement – When you own an HVAC system the filter drier is one of the most important pieces of that system because filters remove contaminants within the system and it can cost up to $100 for parts and labor just to replace this part alone if your HVAC isn't under warranty.
#2 – Plumbing Repairs
Plumbing can be one of the most annoying repairs that any homeowner will have to make while they live in their home because plumbing issues are often unexpected and costly.
Some of the most common plumbing repairs that are made by homeowners who have home warranties include: clearing drain lines when there's a line stoppage and also making pipe leak repairs.
An average plumbing repair can cost up to $300 so having a home warranty makes sense especially when you consider that an average family of four might have at least one plumbing issue per year like a leaky pipe, blocked mainline or bad toilet due to normal use of the facilities in the home and it makes sense to have a home warranty to cover these issues when they arise.
#3 – Appliance Repairs
There's no denying that we all need and rely on certain appliances in our homes like trash compactors, garbage disposals, dishwashers, microwaves or stoves and when our appliances stop working, or need to be repaired, it's almost like losing an important part of our lives.
Thankfully with a home warranty every homeowner can save tens of thousands of dollars in repair costs since the average repair cost for an appliance can cost up to $300 so once again it makes sense to choose a home warranty if you're committed to keeping all of your appliances working without having to pay the high cost of repairs.
#4 – Re-Keying Your Home
If you plan on having new keys made for your home when you move in you can expect to pay up to $100 just to have one door re-keyed! Thankfully when you choose a home warranty you can expect to pay the service fee that your home warranty charges which averages about $60.
#5 – Electrical Repairs
Another common maintenance and repair that homeowners are using their home warranties for is the electrical system in their homes.
Over the years that they live in their homes a typical homeowner will experience issues with plugs, wiring, panels, fuses, junction boxes, conduits, ceiling fans, circuit breakers, central vacuums and exhaust fans.
It's not uncommon for a homeowner to pay an electrician up to $500 for just repairing one electrical issue in their homes but thankfully when you have a home warranty all you can expect to pay much less for electrical repairs in your home since the average service call is only about $60 and this also includes parts and labor.