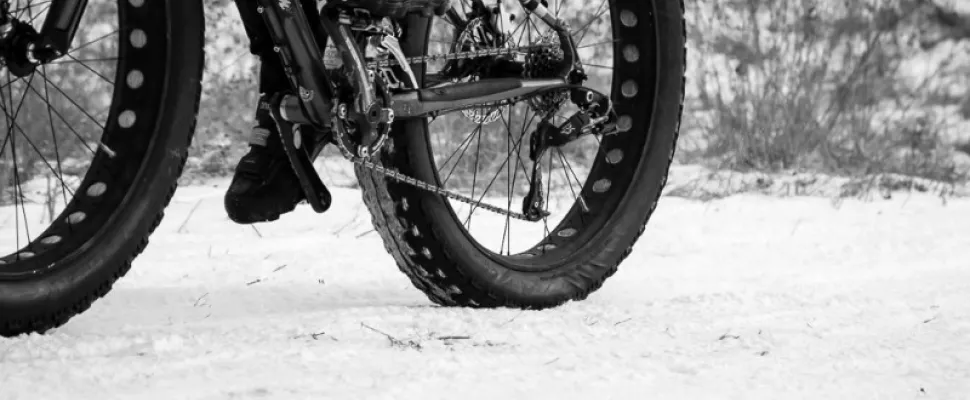 5 of the Best Offbeat Winter Outdoor Adventures in Bend, Oregon
---
Regardless of the time of year, Bend offers fantastic outdoor recreation for the entire family.
To get the most out of a visit to Bend however, it's important to do some research and planning so you don't miss out on any unique events!
Bend and the surrounding ski resorts offer downhill and cross-country skiing, snowboarding and ice-skating, and even dog sled rides!
Here are 5 of the Best Offbeat Outdoor Adventures in Bend.
Sled Dog Rides Mt. Bachelor
Mt. Bachelor, so named because it stands apart from the Three Sisters peaks, is 22 miles west of Bend via the Cascade Lakes National Scenic Byway. In addition to all the other activities available, it's the home base for the Oregon Trail of Dreams – a sled dog company run by Jerry Scdoris and his daughter, Iditarod musher Rachael Scdoris.  The rides depart from the Sunrise Lodge parking area.
A sled ride, with up to four passengers, lasts for about an hour. Passengers – people 3 years and older – are snugly tucked into the sled and then taken on this unique experience in which they'll see the sites of central Oregon from a vantage point that few people every get to experience.  An extra option is to help care, water and feed the sled dogs after the trip.
To provide its guests with the feel of the real Iditarod experience, the Oregon Trail of Dreams also offers a 26-mile round trip journey to Elk Lake and back. This marathon experience takes about 6 hours.
Fat Biking at Wanoga Snow Park
We don't mean to take anything away from skiing or snowboarding, in fact we're going to suggest a great place to do that a little later on in this article. But first, let's talk about the latest outdoor adventure taking Central Oregon by storm.
Wanoga Sno Play Area Sno-Park, which is only 14 miles west of Bend via the Cascade Lakes National Scenic Byway, is within the Deschutes National Forest, is an ideal place to go "fat biking."
A fatbike comes equipped with oversized tires (almost 4 inches wide!), designed especially to be able to handle snow and mud. Wanoga Sno-Park has single track snow trails groomed especially for the fat biker, and fat bike rental prices are similar to those for Nordic skis. It's perhaps best to visit a cycle shop and take a fat bike tour of the Sno-Park before you invest in such a bike for yourself!
Snowshoe by Moonlight at Virginia Meissner Sno-park
Some years ago, the Tangent area in the Deschutes National Park was renamed Virginia Meissner Sno-Park, in honor of Meissner who wrote several guidebooks to hiking and skiing in the Cascades. She was also a cross-country ski instructor.
This park, about 13 miles west of Bend via Cascade Lakes National Scenic Byway, is excellent for the beginning, as its 30 miles of trail go over very gentle terrain for the most part. There is a hilly loop that provides lovely views of Mount Bachelor, the Three Sisters, and Tumalo Mountain. These trails, groomed, connect to the ungroomed trails of the Swampy Lakes Snow Sno- Park.
If you and your significant other are just beginning as a snow-shoer or cross-country skier, snowshoeing or skiing these trails by moonlight is a romantic adventure – stopping at one of the many shelters to start a fire in one of the grills provided and enjoy some hot chocolate together.
These Moonlight Snowshoeing tours are offered by Wanderlust Tours.
Snowmobiling Dutchman Flat Sno-Park
If you're looking for some great snowmobiling, you need look no further than Dutchman Flat Sno-Park. (A lot of people do look no further than Dutchman Flat Sno-Park, so there will be a lot of snowmobilers in the area. Be prepared for that.) Dutchman Flat Sno-Park is about 22 miles west of Bend on Cascade Lakes Highway.
This Sno-Park is right next to the Mt. Bachelor ski area, and has 150 miles of groomed snowmobiling routes. Snowmobiles can be rented from Elk Lake resort.
Snowtubing at Mt Bachelor
If you like the thrill of going downhill very fast, but don't have the balance or the inclination to go downhill skiing or snowboarding, why not try snowtubing? Just as people go tubing down a river in giant inner tubes, so you can go zooming down a snow-covered mountain slope, 800 feet in length, safely ensconced in your own tube. Then you can go up the surface lift to do it again!
The Snowblast Snowtubing Park is situated between the Mountain Gateway building and the bottom of Red Chair.  The fun begins at 10:00 am and ends at 4:00 pm. Tickets are sold for a two-hour session, or for all day. Sessions do sell out, and there are no advance reservations, unfortunately.
Resources
Sled Dog Rides: http://www.mtbachelor.com/events-activities/sled-dog-rides/
Fat biking: http://www.bendbulletin.com/outdoors/4905688-151/groomed-fatbikers-snow-tracks-at-wanoga-sno-park
Snowshoeing by Moonlight: http://www.benningtonproperties.com/winter.html
Smowmobiling: http://www.visitbend.com/Bend_Oregon_Activities_Recreation/Outdoor-Recreation/Winter-Fun/Bend-Oregon-Snowmobiling/
Snowtubing http://www.mtbachelor.com/events-activities/snowblast-tubing/