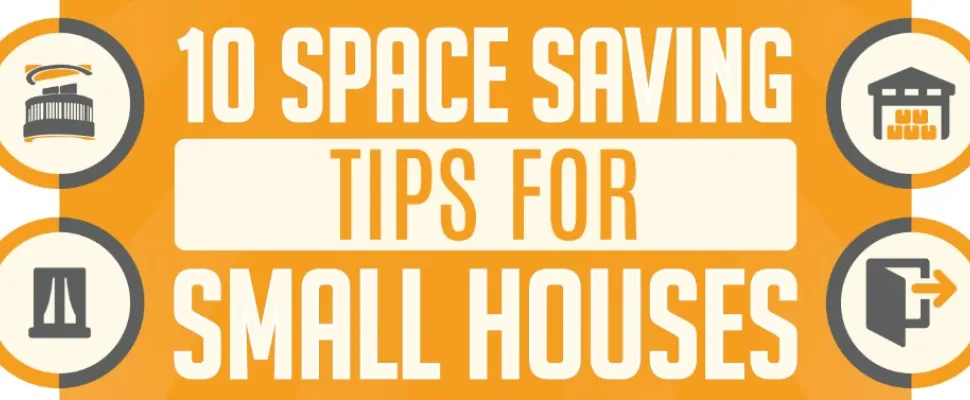 10 Space Saving Tips for Small Houses {INFOGRAPHIC}
---
Peruse just about any architectural magazine and you'll see that more buyers are looking into small if not downright tiny houses. It makes sense as the smaller the house, the less your footprint and mortgage payment. Heck, the less you have to clean. But at the end of the day, small houses are, well, small, and they make it more challenging to optimize the space you do have.
If you live in a small house, here are 11 space saving tips that may also save your sanity:
Mount Things on Walls
Most small homes have small bedrooms, which can make it challenging to fit your furniture. Here's a great space-saving tip: forego traditional floor nightstands and instead use a couple that mount right onto the wall. This gives you open space underneath that visually enlarges the space. Plus, you can stash things underneath like slippers and books.
Another space-saving tip is to mount the lamps onto the wall as well, or use sconces. This frees up the space on top of the nightstand.
Think Shelves
Children's rooms can be quite small, to the point where there is little to no space between the bed and walls, making even mountable nightstands impractical. You can easily hang a couple of shelves above the bed that can hold books and toys instead. Just be sure to find those wall studs and screw your shelving brackets into them to anchor properly.
This is also a great way to save space in home offices and even living rooms. Why have traditional bookshelves, that take up precious room on the floor, when you can hang shelves instead? To get the most storage bang for your buck, consider hanging shelves that run the entire length of the room.
Downsize Kitchen Furniture and Appliances
The reality is, unless you have a big kitchen that can handle a table and chairs and island, along with a full size oven, range, refrigerator and dishwasher, your appliances and furniture are simply taking up too much space. They may even look ridiculous shoved in there, though your friends and family are too nice to say so. As soon as you downsize you will have much more room to move and around and prepare meals.
Leverage That Porch or Patio as Living Space
Depending on what area of the country you live in, you can really extend your living space outdoors. Your porch or patio will seem like a totally separate room and add as much as 200-300 extra square feet.
Use the Space Under Your Windows for Storage
Your windows already take up a lot of wall space, so why leave that precious real estate underneath them unused? Take advantage of this space by creating window seating that includes built-in storage for things like blankets and board games.
Rethink Your Tables
If your current tables do not have any drawers or cabinet space, consider buying some that do. The idea is to get as much bang for your buck with each space and piece of furniture. Think form and function – furniture should not only look good but be able to store items away as well.
Finish the Attic or Basement
If your budget allows, you can create additional living/storage space by finishing either the attic or basement or both.
Add a Loft
In cities like Pittsburgh and NY, that are constrained because of rivers flanking either side, developers had to build UP not out. You can do the same thing. If you have high ceilings in your living room or recreation room, consider adding a loft, which can then act as an office space, craft corner or play room.
Utilize More Space in the Mudroom and Garage
These are two rooms in people's homes that tend to be the most disorganized. Consider adding some shelving, lockers or cube storage space to tuck away sporting equipment and kid's shoes and toys. This frees up space in bedrooms and closets.
Remove Closet Doors
And speaking of closets, think about all of the floor space necessary for closet doors to swing open. Consider removing your doors and replacing them with curtains hung on a suspension rod.
You would be amazed at how much more space you can create in your home by implementing just a few (let alone all) of these space-saving tips.
Share this Image On Your Site
<p><strong>Please include attribution to https://nestbendrealestate.com/ with this graphic.</strong></p><br />
<p><a href='https://nestbendrealestate.com/10-space-saving-tips-small-houses-infographic/'><img src='https://nestbendrealestate.com/wp-content/uploads/2016/08/10-Space-Saving-Tips-for-Small-Houses-Nest-Bend.jpg' alt='10 Space Saving Tips for Small Houses' width='1000px' border='0′ /></a></p><br />
<p>